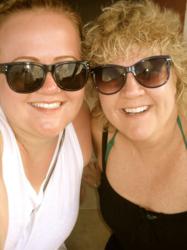 WIN a $500 Travel Voucher!
Hamilton, ON (PRWEB) May 07, 2013
Travel company tripcentral.ca announced yesterday the unveiling of its Mother's Day contest on Facebook. Contestants are asked to submit a favourite photo featuring themselves with their mom on vacation for a chance to win a $500 travel voucher.
"Show your love and appreciation this Mother's Day--surprise her with a dream vacation!" said Aimee Beck, the company's Social Media Manager. "When you enter the 'Moments with Mom' Vacation Photo Contest from tripcentral.ca, you could win a $500 travel voucher to spend toward a relaxing getaway for your beloved mom."
Entry is Simple
Visit tripcentral.ca's Facebook page now and "Like" it. Then enter a few details and submit a favourite photo featuring you and your Mom on vacation together.
Submissions can be funny, sappy and everything in between. "Try to be imaginative," Aimee said, "the more Likes & Shares you get from Facebook friends and family, the better your chances of winning."
~ The deadline to enter is May 12, 2013.
~ The winner will be selected on May 13th by tripcentral.ca representatives.
~ The winner will be announced on May 14th.
To learn more about the 'Moments with Mom' Vacation Photo Contest and Enter to Win click here: http://www.facebook.com/tripcentral

Must be 19 years of age or older, no purchase necessary.
About tripcentral.ca
Tripcentral.ca is more than just a website. It is a traditional brick-and-mortar travel agency with multiple retail locations in Ontario, Nova Scotia, and New Brunswick. In operation since 1989, the company has grown to one of the largest travel companies in Ontario and employs over 120 people. Tripcentral.ca offers a unique value proposition—the best of the web, and the best of the experienced travel agent. Only at tripcentral.ca will you find instant access to travel agents who've actually been to the destinations you want to visit.
# # #