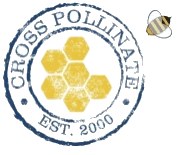 "There's an overwhelming amount of selection on the internet right now - much of it hard to trust - we prefer a small, manageable list of places we know are worth recommending, and we handle all inquiries and information requests in multiple languages, so
Rome, Italy (PRWEB) January 24, 2012
Cross-Pollinate was founded in Rome, Italy in 2000 by an expatriate American couple, Linda and Steve, who packed up their apartment in Los Angeles and moved to Rome in 1999 to open an upscale hostel/hotel called The Beehive. Following their immediate success, they began Cross-Pollinate as a way to manage the overflow of demand that their small Beehive couldn't accommodate. Devoted to helping people and feeling a sense of responsibility for their recommendations, they sought out small, family run B&Bs, spare rooms, and private apartments as collaborators. What began as a handful of recommendations in Rome has grown to hundreds of private apartments, B&Bs and guestrooms in some of Europe's most amazing cities.
What sets Cross-Pollinate apart from the competition is that all properties are personally inspected, photographed and described by a team of international, well traveled, multi-lingual staff, who understand the nuances of the city as well as the expectations of clients.
This business model differs from large-scale portals in that guests aren't overwhelmed with thousands of results and don't have to do all the work contacting multiple owners. Managers and owners have a similar benefit in that the Cross-Pollinate staff handles all requests and arbitrates any problems.
"There's an overwhelming amount of selection on the internet right now - much of it hard to trust - we prefer a small, manageable list of places we know are worth recommending, and we handle all inquiries and information requests in multiple languages, so travelers don't have to work so hard at contacting multiple owners and making reservations."
All properties on the site accept Cross-Pollinate's flexible policy so there is no room for disputes between owners and travelers. Cancellation terms are clear, simple and transparent - much more like booking a hotel than a vacation rental. Since all properties are inspected, this means there are no scams on the site, no "bait and switch" and no "last minute cancellations by owners" allowed.
The new site has updated graphics, improved speed, higher security, and offers the easiest way to compare properties, make a choice and submit that single request and then sit back while the Cross-Pollinate team makes sure the request is confirmed properly.
"When we started, in 2000, no one was focusing on non-hotels - to reserve anything small and family run with a local feel was very inefficient, if not downright impossible." says founder/CEO Steve Brenner. "We were very innovative to get these places online and bookable by credit card. Over the years, we've had loads of ideas brewing and felt like it was time to start over and redesign from the ground up."
In the first two quarters of 2012, Cross-Pollinate will be adding Istanbul and Lisbon to the site, with plans for Madrid and Berlin to follow later in the year. Many new features are currently being tested and will be introduced steadily over the course of the year.
###