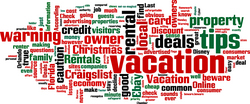 When a consumer has the choice between a cheap vacation or no vacation at all, the quest for vacation accommodations enter a phase of desperation and visitors make themselves a fairly easy target for abuse and scams
Orlando, FL (Vocus) December 10, 2009
More than ever in a troubled economy, the search for a great deal has become a priority for the consumer. Cyber Monday recorded a greater sales volume however with less dollars spent overall. According to a Visit Florida study, the Florida vacation market was no different in that regard: third quarter data for Florida shows only an approximate 1% decline in visitors compared to that of 2008, whereas the dollar amount spent per visitor took a significantly steeper decline. The race for great deals is officially on.
"When a consumer has the choice between a cheap vacation or no vacation at all, the quest for vacation accommodations enter a phase of desperation and visitors make themselves a fairly easy target for abuse and scams," comments Peter Van den Broeck, owner of Discount Vacation Rentals Online. Use the following tips to help reserving a vacation rental property accommodation.
5 Tips To Avoid Being Scammed:

Pay with a Credit Card: a credit card provides a backup plan for the credit card holder in case one needs to dispute the charge if the charge was fraudulent. A debit card, a money order or personal check does not. These days even homeowners have access to merchant services like PayPal and this can validate professionalism in the service provided. Renting from a source that does not accept credit cards should trigger a deeper look into a great find.
Ask questions: exactly how much does the rental person know about the property and how much does Mr Owner know? In other words "Do Your Homework!". Ask questions on the address, the floor plan, specific bed sizes and so on. With little effort a renter can find out more about the vacation rental property's surroundings via a web search, than the time a scam artist is willing to invest.
Check the source: any company has registrations with authority sites such as the Better Business Bureau or the local Chamber of Commerce for example. Owners are represented by professional and properly licensed management companies. Check these resources.
Other advertising: if your rental property is advertised by an owner, find (or ask) what other websites or advertisement web page is the property being advertised. Most disingenuous advertisers choose media that is cheap or no cost at all to advertise.
Go local: there is more benefit than just the safety factor in going local; the amount of information as well as the suggestions and advice on where to stay (or not to stay) are most valued by guests. Local companies can provide more information than guests can ever find online and the goal is to safeguard the local market, not just rent out vacation homes.
If it sounds too good to be true… be warned and cautious! Orlando vacation rental properties are investment properties and no owner is in it for the loss.
Orlando last minute deals and specials for Christmas season do exist and are still available for an unforgettable family Disney World vacation. Rushing into a reservation is never wise. According to Discount Vacation Rentals Online every season has its panic calls come in from guests with the most obvious red flags visitors did not recognize before arriving to their rental home. "They said the key was going to be under the doormat" or "the house number nor the street even exists" or "The check-in office has never heard of our name or the owner we booked through".
"It is all too common," Van den Broeck adds. "Web sites like Craigslist and Ebay do a wonderful job on making advertising a low cost and easy 1-2 step medium for consumers. It has a flip side, however, making it also an easy copy/paste-and-submit type of job for dubious people wishing to trick consumers."
T'is the season and with a little caution visitors can positively enjoy genuine "Florida holiday villas" without having to take unwanted hurdles to get there.
This warning comes as no surprise. Peter Van den Broeck, founder of one of the larger property management companies in the Orlando vacation rentals market, gave up his property management roots in 2007 and started Discount Vacation Rentals Online. "It was apparent to us that owners and property management companies all offer rentals, all representing the owner. There was no representation of the buyer -the renter- and therefore DVRO was born. Discount Vacation Rentals Online works from the other end of the table: recording the renters wishes and desires in detail. With this information DVRO turns towards owners and property management companies and selects matches for the guest's needs. A free service for the renter.
A new booking engine and registration software is launched on the web site before the end of the year and Discount Vacation Rentals Online will be proud to present a "Human Search Engine" feature the first week of January 2010.
For more information about this article, please contact
Discount Vacation Rentals Online
Peter Van den Broeck
417 East Jackson Street
Orlando Florida 32801
(407) 492-0094
http://www.discountvacationrentalsonline.com
###