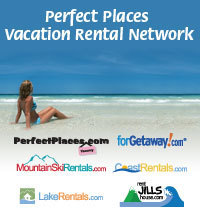 When we purchased these sites from The Weather Channel Interactive, our goal was to build leading vacation rental sites in key niche travel markets including lake, beach and coastal, and mountain and ski area properties
Mountain View, CA (Vocus) October 26, 2010
Perfect Places, Inc. today announced it has completed the migration of websites it acquired from The Weather Channel Interactive earlier this year to its advanced technical platform. These vacation rentals websites include forGetaway.com, LakeRentals.com and CoastRentals.com. Perfect Places also launched a new website, MountainSkiRentals.com, which takes advantage of assets and vacation rental inventory included in the acquisition. Each of these websites complement the PerfectPlaces.com portfolio, which includes over 55,000 vacation rental listings in 98 countries.
"When we purchased these sites from The Weather Channel Interactive, our goal was to build leading vacation rental sites in key niche travel markets including lake, beach and coastal, and mountain and ski area properties," said Rick Haggart, founder and president of Perfect Places. "By moving these sites to our advanced platform, we have been able to keep these sites focused on their travel niches and substantially improve the user experience by adding our leading online booking technology and advanced search capabilities to each of the sites," noted Haggart.
With the migration of these sites complete, the Perfect Places portfolio provides leisure travelers with channels focused on their specific interests. Each channel includes a large inventory of professionally managed properties and properties that are available directly from property owners. Travelers can quickly zero in on the best property for their vacation by refining their search based on location, size, price and amenities. Travelers also have access to nearly 80,000 guest reviews to help make the best possible decision based on their vacation plans. Once a traveler has decided which property they want to book, they can contact the property manager or owner directly to compete the booking or if they have selected one of the 46,000 properties which offer online booking, they can complete a secure online booking immediately using a credit card.
Vacation Rentals offer great options for families, extended families and group vacations because of their cost effectiveness versus multiple hotel rooms and the variety of amenities available. According to recent research from PhocusWright, a travel industry research authority, vacation rentals already represent over one fifth of all hotel room revenue and revenue growth is accelerating. "Adding these great sites to our portfolio furthers our mission to offer a compelling alternative to travelers seeking additional space, amenities and value that hotels are often unable to match," noted Haggart.
About Perfect Places, Inc.
Perfect Places is a leading vacation rental website offering over 55,000 properties worldwide and receiving millions of annual visitors seeking vacation rentals. Launched in 1996, Perfect Places is at the forefront of offering online booking for vacation rentals. PerfectPlaces.com is owned by Perfect Places, Inc., a Mountain View, California-based, privately held company.
###