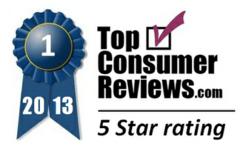 It's an honor to receive TopConsumerReviews.com's highest rating... This five-star rating assures us that we're doing our job.
Overland Park, Kan. (PRWEB) January 09, 2013
TopConsumerReviews.com recently awarded their highest five-star rating to HomeAway, an industry leader in Vacation Rental companies.
"It's an honor to receive TopConsumerReviews.com's highest rating," says Jon Gray, Senior Vice President for HomeAway. "The company's mission is to make it as easy to book a vacation home rental as it is a hotel and so we're dedicated to delivering a quality user experience for both travelers and homeowners. This five-star rating assures us that we're doing our job."
Vacation rental properties are generally owned by individuals, and sometimes management companies, that generate income by renting the properties while they're not in use by the owner or other vacationers. Utilizing a vacation rental property over the more traditional hotel stay is an excellent way to save costs and have more privacy. No need to worry about late night noise coming from the hallway, or intrusive early morning maid service when you're staying in a rental home. Vacation rental properties are also great for a group of family or friends that want to stay together while they vacation at the same time.
"HomeAway leads the pack in vacation rental websites, with one of the largest global property listings and an excellent search facility to help you find exactly what you're looking for" explained Brian Dolezal, of TopConsumerReviews.com, LLC. "In the world of online vacation rental companies, it's imperative that the customer experience a well-organized and easy to use process to quickly find the destination and vacation spot they desire. HomeAway's website leads the pack in vacation rental properties. If you need help finding your next vacation rental, Home Away should be your first stop."
To find out more about HomeAway and other Vacation Rental companies, including reviews and comparison rankings, please visit the Vacation Rentals category of TopConsumerReviews.com at http://www.topconsumerreviews.com/vacation-rentals/.
About HomeAway
HomeAway, Inc., based in Austin, Texas, is the world's leading online marketplace of vacation rentals, with sites representing approximately 720,000 paid vacation rental home listings throughout 168 countries. HomeAway® offers an extensive selection of vacation homes that provide travelers with memorable experiences and benefits, especially more room to relax, for less than the cost of traditional hotel accommodations. The company also makes it easy for vacation rental owners and property managers to advertise their properties and manage bookings online. The HomeAway portfolio of websites includes HomeAway.com, VRBO.com and VacationRentals.com in the United States; HomeAway.co.uk and OwnersDirect.co.uk in the United Kingdom; HomeAway.de in Germany; Abritel.fr and Homelidays.com in France; HomeAway.es, Toprural.com in Spain; AlugueTemporada.com.br in Brazil; and HomeAway.com.au in Australia.
In addition, HomeAway operates BedandBreakfast.com, the most comprehensive global site for finding bed-and-breakfast properties, providing travelers with another source for unique lodging alternatives to chain hotels.
About TopConsumerReviews.com
TopConsumerReviews.com is a leading provider of independent reviews and rankings of hundreds of consumer products and services. From the best debt relief programs and top rated hair loss treatments, to online payday loans and wholesale dropshipper reviews, TopConsumerReviews.com delivers in-depth product evaluations in order to make your purchasing decision easier.