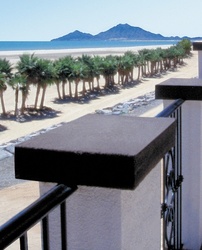 San Diego (PRWEB) May 10, 2008
El Dorado Ranch announced today that it is featuring some of the most attractive real estate offers in history and the most affordable way to see them: Three night-Discovery Tours, to Mexico, starting at $98 per person, are being offered to entice buyers looking for a seaside retirement, vacation home or just an excellent real estate opportunity.
Just two hours south of the border and four hours from San Diego or six from Phoenix, El Dorado Ranch is one of the most affordable seaside community developments available in today's real estate market. Prices begin as low as $12,800 (USD) for a solar power lot, or $39,900 for underground electricity, both with sea and mountain views available.
The development is located along the Sea of Cortez, near San Felipe, Mexico, and offers a complete array of resort style amenities such as an 18 hole, Bradford Benz Golf Course, swimming pool, tennis courts, bar and two restaurants, one of which is beachside. Other local activities include sport fishing, sailing, off-road eco tours and, of course, quietly sipping margaritas by the beach while looking out on the aqua-blue Sea of Cortez.
The $98 per person Discovery Tour packages include three nights of hotel accommodations, welcome margarita, dinner and breakfast for two, a two-for-one fun book with over $150 off food, drinks and activities and tour of the ranch.
La Ventana del Mar, which is part of El Dorado Ranch, features beautiful, decorator-appointed condominiums and Spanish Colonial-style golf course homes. Because of the Solar Power lots and all of the other opportunities there, the development has been featured in Time Magazine, The New York Times and Los Angeles Times, where it has been touted as one of the most affordable places to retire, vacation in luxury, or buy, anywhere in the world.
With the largest solar community in North America and 50 percent of the property preserved as green space, El Dorado Ranch has set a high standard for eco-friendly development.
For more information on visiting El Dorado Ranch, contact the Customer Relations Office at 800-455-0119 or visit the website at http://www.discover-baja.com.
###