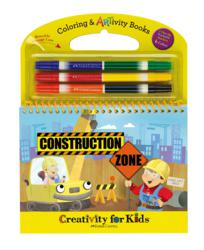 Cleveland, OH (PRWEB) July 27, 2011
Creativity for Kids Coloring & ARTivity books are fun and convenient for kids to do on vacation this summer, whether traveling by car, boat, train or plane to destinations all over the world. Plus they're a great activity if there's ever a rainy day while the family is away.
Take-Along Coloring & ARTivity Books are compact and complete so kids can enjoy coloring wherever they go. Each book has a sturdy carrying handle and hard back cover, and comes with a set of 3 Faber-Castell Duo-tip markers. These books have some special features that take them beyond a regular coloring book: original illustrations printed on high quality art paper, spiral binding so the pages lay flat for easy coloring, perforated pages so artwork can be easily removed from the book and displayed, tips and techniques that inspire innovative ways to color and create.
There are six themes to choose from, including two new ones! One has construction vehicle designs, and the other features all different kinds of pets– each with a suggested price of $7.99.
new! Construction Zone - color in all the favorite diggers, cranes, trucks and other equipment young builders love
new! Pet Pals – color in scenes of kids playing with and taking care of pets of all kinds
Way Cool Diva Doodles - fashion, fun and designs for girls to draw and color
Cars, Trucks & More - cool vehicles from racing cars to retro vans and dump trucks
Travel Doodle & Do - a passport for going to fun places on vacation
Princesses A to Z - 26 princesses, from Alyssa eating Apples on an Airplane to Zoë on a Zebra at the Zoo
Two other new Coloring & ARTivity Books in the classic line also conveniently come with art supplies for coloring on the go. The new Cool Metallics Pictures & Designs has 24 pages of quality art paper with cute and trendy designs featuring unicorns, cupcakes, rainbows, and butterflies. The book comes with 5 metallic pencils in a reusable storage pouch. Use the pencils to color on black backgrounds for sparkly effects. Suggested price $6.99.
And the new Fun Things to Color A to Z contains 24 pages of quality art paper plus 8 bright, washable markers perfect for little hands to color with. The designs are a great first coloring and learning experience as they cover the alphabet from A-Alligators to Z-Zebras and lots of favorite items in between. Suggested price $6.99.
2011 is a milestone year as we celebrate 35 years of Creativity for Kids! They are proud to consistently provide a quality experience in all areas of business, particularly in developing innovative, high quality arts & crafts products for children. Their products are available all over the world, giving children the opportunity to create, pretend and play in ways that encourage self-expression and build self-esteem. All Creativity for Kids products are fully compliant with current U.S. toy safety standards.
###