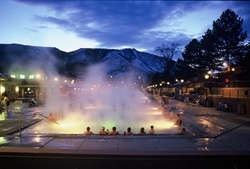 Glenwood Springs, CO (Vocus) February 17, 2010
The Glenwood Springs Chamber Resort Association and its tourism partners are striving to make every vacation to Glenwood Springs, Colorado extraordinary in 2010. The Buy 2 Nights, Get the 3rd Night Free and the Birthday Coupon campaign are part of an innovative marketing strategy that brings together Glenwood Springs' tourism outlets including accommodations, recreation, dining and more. For visitors to the mountain resort town, the result is a Spring Break that's fun for the whole family and one that doesn't break the bank.
"Spring Break in Glenwood Springs is a great tradition, after all people have been coming here for their getaways for 125 years! As part of our birthday celebration we're giving visitors all sorts of reasons to celebrate with us including great discounts on lodging and lots more," said Kate Collins, Vice President of Tourism Marketing for the Glenwood Springs Chamber Resort Association.
The Buy 2, Get the 3rd Night Free vacation package, along with the Glenwood Springs Birthday Coupons campaign is part of an on-going, year-long celebration of Glenwood Springs' 125th birthday. By registering online at http://www.glenwoodchamber.com/birthday, guests become eligible for freebies and discounts on their personal birthdays for activities, dining and more in 2010. Depending on the season, guests can ski at Sunlight Mountain Resort, swim at the Hot Springs Pool, take a mineral bath at the Spa of the Rockies, steam in the Yampah Spa and Vapor Caves, enjoy a massage at Arcella's Retreat, explore and play at the Glenwood Caverns Adventure Park, raft the Colorado river, go horseback riding, and more, plus indulge in delicious food at restaurants around Glenwood Springs – all for free.
As part of the Buy 2, Get the 3rd Night Free vacation package, visitors can choose amongst sixteen lodging options to suit their personal preferences and budgets and at each one the third night is absolutely free. To get started, enter stays for 3 nights or more at http://www.visitglenwood.com/packages. For stays of 6 nights or more, please call 888.445.3696.
Glenwood Springs was founded on August 25, 1885. One hundred and twenty five years later, people still come to Glenwood Springs, Colorado for many of the same reasons that drew the first visitors here – to relax, to play, to enjoy the scenic and natural wonders. Join Glenwood Springs in 2010 and discover the reason people have been visiting this unique resort town in the Rocky Mountains for 125 years and counting.
About Glenwood Springs
Glenwood Springs is located between Aspen and Vail, 165 miles west of Denver or 90 miles east of Grand Junction on Interstate 70 off exit 116. For more information about Glenwood Springs, Colorado, call 970-945-6589 or go to http://www.visitglenwood.com/. For lodging reservations, call 888 4 GLENWOOD (888-445-3696). A complete press kit and press releases are available at http://www.visitglenwood.com/press-kit and http://www.visitglenwood.com/press-releases. Photos are available on request.
Media Contacts:
Kate Collins, Vice President of Tourism Marketing
Glenwood Springs Chamber Resort Association
970-945-6589 ext. 105
kate (at) glenwoodchamber (dot) com
or
Vicky Nash, Public Relations Representative
Resort Trends, Inc. – Tourism & Resort Communications
970-948-4923
Vicky (at) resorttrends (dot) com
###