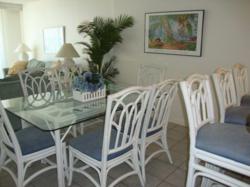 North Myrtle Beach, SC (PRWEB) October 18, 2012
This Thanksgiving, take a family vacation that includes all the comforts of home. Book a stay at one of Vacation Rentals of North Myrtle Beach's properties the week of Thanksgiving, and the company will provide a turkey for the Thanksgiving feast.
Most of VRNMB's homes and condos are equipped with fully stocked kitchens, so guests won't have to worry about space to cook. The company has properties that will accommodate any size group as well, no matter how big or small.
For instance, Cottages at Tilghman #23, a 4BR/3BA condo in Ocean Drive, has living and dining rooms that look into the kitchen. Family and friends can relax and chat in the living area, and they will be within hearing distance in case someone needs help in the kitchen.
Similarly, Windy Hill Dunes, a 3BR/3BA oceanfront condo in Windy Hill, has spacious, open living and dining areas. There's lots of room to catch up before, during and after dinner. Guests can even take a leisurely stroll on the beach. There are plenty of sleeping options as well, with a king bed in the master suite, a queen bed in the second bedroom and two doubles in the third bedroom.
Pier Watch Villas #108 and #309 are ideal for large family get-togethers. These 6BR/4BA condos sleep up to 12 people comfortably, and #309 has queen-size Tempur-Pedic mattresses in all the bedrooms. The dining rooms are big enough for the most elaborate Thanksgiving feast. Guests will stay entertained, too: They can head to the beach, watch TV, or just enjoy one another's company. Kids (and adults) will also love #108's full-size arcade.
What's more, guests can burn off the Thanksgiving calories by getting some holiday shopping done. With nearby options like Tanger Outlet, Barefoot Landing, Broadway at the Beach and The Market Common, you are sure to find the perfect gift for everyone on your list.
Vacation Rentals of North Myrtle Beach is conveniently located at 1021 2nd Avenue North, Suite 6 and can be contacted directly to discuss rental properties at 1-888-488-8588 or online at vacationrentalsofnmb.com.
###