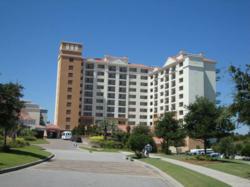 North Myrtle Beach, SC (PRWEB) December 05, 2012
Vacation Rentals of North Myrtle Beach has expanded! The company is now managing some wonderful new properties in Myrtle Beach. The company is excited to enter this new market, and knows vacationers will love the new condos in its homeowners' program. See below for details on the new properties:
Marina Inn at Grande Dunes #4405 and #7103
These two 2BR/2BA condos are located in Myrtle Beach's Grande Dunes luxury community. Guests can take advantage of the Dunes' many amenities, such as the indoor or outdoor pools, tennis courts, and fitness room. It's easy to explore the area as well, as the condos are a short drive away from Broadway at the Beach, the Boardwalk and many other local attractions. The condos' spacious living room areas have a fireplace and comfortable seating, and the fully stocked kitchens are equipped with granite counter tops and all appliances. Both units have two private balconies overlooking the pool area and the Intracoastal Waterway—ideal for an end-of-day cocktail or a morning cup of coffee.
Sea Mist #5-1009, #2-0905, and #5-0809
Book one of these 1BR/1BA oceanfront condos for a relaxing, affordable stay in the heart of Myrtle Beach. The units all have fully stocked kitchens, dining areas and flat screen TVs, making them the perfect place for a low-key weekend. Watch your favorite shows or movies, cook a nice meal, enjoy a good book or a strong drink on the balcony, or just sit and watch the waves. In the evenings, go out for a nice dinner at one of the onsite restaurants and then take a stroll along the Boardwalk. Kids will love a trip to Family Kingdom, an amusement park that's only a short walk from the resort. They'll also enjoy the resort's arcade and recreation complex, which has more than 100 games, and the mini-golf course. Sea Mist Resort even hosts seasonal events, such as an oyster roast in the fall and winter, and a movie night during the summer.
Landmark Resort #521 and #1432
The city's best attractions—the Boardwalk, Skywheel, Family Kingdom—are only a short walk or drive away from these condos. Unit #521 is a well-maintained 1BR/1BA efficiency with two double beds. Enjoy a cocktail and the ocean views from the condo's balcony, or sit and chat with guests on the recently updated furniture. The unit has a small fridge, microwave and sink (perfect for whipping up a quick breakfast or midnight snack), along with granite countertops. Unit #1432 is a 2BR/1BA with oceanfront views. It's great for a small family, with a queen bed in the bedroom and a pull down Murphy bed in the living area. Don't feel like going out to eat? Use the unit's full-size kitchen, which comes with all cooking utensils.
Vacation Rentals of North Myrtle Beach is conveniently located at 1021 2nd Avenue North, Suite 6 and can be contacted directly to discuss rental properties at 1-888-488-8588 or online at vacationrentalsofnmb.com.
###