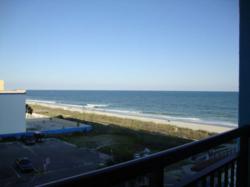 North Myrtle Beach, SC (PRWEB) January 09, 2013
Vacation Rentals of North Myrtle Beach is offering a new promotion for Valentine's Day. Customers who book one of the company's many beautiful homes and condos for Feb. 14 will receive a bottle of champagne and a $20 dinner voucher.
Interested in a Valentine's Day vacation that's filled with some well-earned rest and relaxation? The North Myrtle Beach area is a great destination for a wellness-themed trip.
Guests who book one of the company's resort properties, such as the Marina Inn condos at Grande Dunes, will have access to hot tubs, pools, tennis courts or state-of-the-art fitness centers. Guests can take some laps, do some reps or just spend some time in the Jacuzzi. Some properties, such as the Sea Mist and Landmark condos, have excellent oceanfront views. Guests can take long, meditative walks on the beach or simply enjoy the scenery.
The Grand Strand is also home to some excellent yoga and pilates studios, massage therapists and spas. Don't forget that Vacation Rentals of North Myrtle Beach can make recommendations and book appointments for guests.
Thinking of coming down sooner than February? There's plenty going on, including the SOS Mid-winter Break Jan. 18–20. The company is running a special for those attending the annual dance festival: Book the 2BR/1BA Sea Villas condo and receive 20% off the rate.
Vacation Rentals of North Myrtle Beach is conveniently located at 1021 2nd Avenue North, Suite 6 and can be contacted directly to discuss rental properties at 1-888-488-8588 or online at vacationrentalsofnmb.com.
###