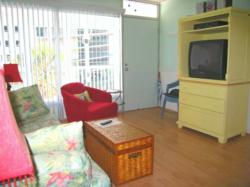 (PRWEB) April 03, 2013
Looking to show off some dancing skills at the SOS Spring Safari? Planning to run the Divas Half Marathon or watch some golf at the Masters Celebrity Pro Am tournament? Vacation Rentals of North Myrtle Beach has some new specials running this month that will allow guests to stay close to these events and many other exciting April happenings.
Ocean Pier #203 is a cute 2BR/2BA located right on the beach in the Windy Hill section of North Myrtle Beach. Centrally located, it's close to Barefoot Landing, which is an excellent local shopping center, as well as other attractions and restaurants. It's also not far from the Divas Half Marathon on April 28, so guests can participate (or just be spectators). The half marathon features roses, bubbly and a pool party at the end of the race - what diva wouldn't want to run? Book this condo now and receive 25 percent off!
Sea Villas #301 is perfect for people attending the SOS Spring Safari. The 1BR/1BA condo in the Ocean Drive section of North Myrtle Beach is only two blocks away from Main Street, so it's close to all the dance lounges and clubs that spring up during this annual shagging event. The Spring Safari, which runs from April 12 to April 21, has dance instructors teaching both the shag and new steps. It also offers classes and has a parade.
The company's two Malibu Pointe properties are great for families on vacation or couples who want a cozy getaway. Unit #1003 is a 3BR/3BA condo, while #802 is a 1BR/1BA condo. Both units have access to great community amenities, such as indoor and outdoor pools, lazy rivers, hot tubs, onsite restaurants and a fitness center. Book by April 30 for summer and receive $100 off.
Guests who snagged tickets to the sold-out "Monday after the Masters" tournament April 6 can also stay in the company's many Barefoot Resort condos. View photos of these luxurious units online.
Vacation Rentals of North Myrtle Beach is conveniently located at 1021 2nd Avenue North, Suite 6 and can be contacted directly to discuss rental properties at 1-888-488-8588 or online at vacationrentalsofnmb.com.