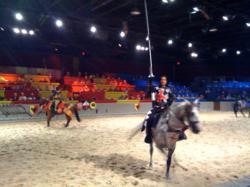 Booking the perfect rental property is only part of arranging a great summer vacation.
North Myrtle Beach, SC (PRWEB) June 14, 2011
Booking the perfect rental property is only part of arranging a great summer vacation. Vacation Rentals of North Myrtle Beach understands that everyone needs a break from the sun and surf once in a while. The property management company has put together a sneak peak at the best shows, concerts and stand up in the North Myrtle Beach area this summer. Many of these venues offer special group discounts, too, ensuring affordable fun for even the largest families.
Located in Barefoot Landing in North Myrtle Beach, the Alabama Theatre will host a select group of artists this summer: Leann Rimes will play there on July 15, The Temptations and The Four Tops will make a joint appearance on July 29 and comedian Jim Gaffigan will perform on August 19. Still, the venue is mostly known for its musical variety extravaganza called "one: The Show." Playing throughout the summer, this year's "one" features more than 20 new songs and dance numbers, covering genres such pop, rock, gospel and country.
With the purchase of an adult ticket, two kids under 16 can get in free every Monday, Wednesday and Friday through Labor Day.
Established in 1986, this Myrtle Beach venue is famous nationwide – it's garnered press in USA Today, The New York Times and CNN. This summer, the Opry will be featuring "Good Vibrations," which is billed as a 90-minute "virtual tour" of sixties, seventies and eighties pop music. On a sixties kick? Then get tickets to the Opry's version of "Beatlemania" too!
Both these shows are in addition to the Opry's award-winning musical revue, performed by the venue's talented cast, and its laser light show, which covers themes like Classic Rock, Led Zeppelin and Pink Floyd.
This tribute artist production has locations all over the country, but the Myrtle Beach venue has some great impersonators booked this summer. Some are predictable – Elvis, Michael Jackson – while others are more unusual – Aretha Franklin, ABBA.
Take a trip to the 11th century by booking a show at Medieval Times. The event is essentially a themed dinner show; guests will be treated to a four-course meal, a slightly modern twist on a meat and potatoes dinner, while rooting on jousting knights. This is great for groups, especially for families, but definitely book early. Right now, the Myrtle Beach castle is running a promotion where guests get a free upgrade to the Royalty Package, which includes preferred seating and a commemorative program.
This North Myrtle Beach club hosts a wide variety of acts – artists like Peter Frampton, The Psychedelic Furs and Wiz Khalifa will be making appearances this summer. The House of Blues has some steady engagements as well, like its Gospel Brunch and Murder Mystery Dinners. The dinners are recommended for kids 13 and up, so it might be wise to leave the younger children at home for this one.
Pirates Voyage
The whole family can earn their sea legs by embarking on North Myrtle Beach's newest show – Pirates Voyage. Similar to Medieval Times, guests feast on five courses while watching two rival pirate camps battle over treasure. This show is complete with a new score written by Dolly Parton.
Not sure which place to visit first? Let Vacation Rentals of North Myrtle Beach book a show for you. Be sure to visit the company's bookings page – they have plenty of rentals in the North Myrtle Beach area. The dedicated staff will help all guests find the property that best suits their vacation needs.
Vacation Rentals of North Myrtle Beach is conveniently located at 1021 Second Avenue North, Suite 6 and can be contacted directly by calling 1.888.488.8588 or visiting its website: http://www.vacationrentalsofnmb.com.
###