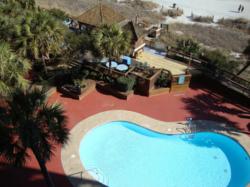 North Myrtle Beach, SC (PRWEB) April 05, 2012
Plan a much-needed spring vacation this month with Vacation Rentals of North Myrtle Beach! The vacation rental and property management company has put together a list of the best festivals, games and dance parties happening this month. They have wonderful homes and condos close to the action, no matter what activities their guests enjoy. They are also offering several specials; find the details at their vacation rentals page.
Check out these events below (more details are available on the company's blog):

30th Annual Easter Egg Hunt: Held in McLean Park April 7, this family-friendly event is free and great for the kids. It starts promptly at 10 a.m., and will go until noon.
Monday After the Masters: This year's event is sold out, but guests can start planning for next year. Nineties super group Hootie and the Blowfish will host a golf tournament April 9, and then perform a show at the House of Blues.
A Night Out at Barefoot: This April 12 event is like a bar crawl, but with food. A $5 wristband will give attendees access to Barefoot Landing's numerous restaurants and bars, many of which will be offering appetizer and dessert specials.
SOS Spring Safari: Shaggers can show off their talents at one of the many dance clubs along Main Street. The weeklong event starts April 20; book a stay with VRNMB for this event and receive a 15% discount.
Myrtle Beach International Film Festival: The festival, scheduled for April 20-28th, will screen more than 30 movies on topics such as shag dancing, mobsters and hidden treasure.
Guests will particularly love the company's Windy Hill- and Cherry Grove-area homes; they are close to these events, as well as the area's best, fishing, shopping and dining. Vacation Rentals of North Myrtle Beach is also offering several specials this month. For example, book a stay at Beach Cove # 421, a 2BR/2BA in Windy Hill, and receive 25% off the rate.
Vacation Rentals of North Myrtle Beach is conveniently located at 1021 2nd Avenue North, Suite 6 and can be contacted directly to discuss rental properties at 1-888-488-8588 or online at http://www.vacationrentalsofnmb.com.