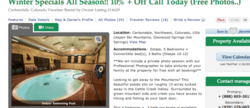 "The 2013 Vacation Rental Industry will be focused around the customer experience. Making Vacation Rentals as easy as Hotels to find, access and book should be every vacation rental owners goal"

Tyler Gillespie
CEO- Breakaway Vacation Rentals
Aspen, CO (PRWEB) February 10, 2013
As a vacation rental property owner marketing your property is a very important part of your business. Here is a solid checklist to make sure your VRBO listing is fully optimized. Your VRBO listing is more than likely one of many listing channels you're using to promote your vacation rental. As it should be it's one of the most valuable marketing outlets available today.
Two tips that really stood out when reading the article were:
"Tip #2: Make sure you have a well written description that describes your property in detail"
and
"Tip #4: Make sure you have the exact bedding of the rental listed in detail. This is almost the #1 question people ask when calling on a rental. Save everyone the time and list the bedding breakdown so it's easy to see."
The article is truly a list of invaluable tips to truly help your listing on VRBO become more visable and increase the number of qualified inquires.
Read the full article here: http://vacationrentalbusiness.net/top-10-tips-to-optimize-your-vrbo-listing/
About http://www.vacationrentalbusiness.net:
Founded by Tyler Gillespie the vacation rental marketing and business blog is true one stop shop for vacation rental homeowners and managers. We really do love vacation rentals and we practice what we preach. Having nearly 10+ years of industry experience we have seen the industry change dramatically. It's been a roller coaster and we all really enjoy it. So much is going on in this wild wild west industry that is still very unregulated. Expect big changes to occur in the next 3-5 years though. With more regulations, Hotels wrestling with the industry, technology/marketing this is going to get interesting. Happy Bookings!
###
Media Contact
Tyler Gillespie
970-279-0037
tyler(at)vacationrentalbusiness(dot)net
http://www.vacationrentalbusiness.net