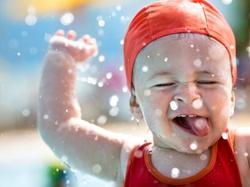 Traveling families are going to be looking for creative ways to get the most out of their vacations this year
Destin, FL (PRWEB) April 1, 2009
GetMoreVacations has launched a newer, easier to use version of their popular website, GetMoreVacations.com. The site directs vacationing families to comfortable, affordable vacation rental properties throughout Florida, North Carolina and Alabama that include vacation activities like complimentary golf, water parks, white water rafting, wildlife tours, deep sea fishing, amusement parks, unlimited DVD rentals and much more every day of the guests' stay.
The new site is easy to navigate and invites guests to select from a wide variety of exciting vacation destinations, property types and fun activities that are included in their stay. Guests can leave comments about their vacation experiences and even upload photos from their vacation to share with friends and family.
"Traveling families are going to be looking for creative ways to get the most out of their vacations this year," says GetMoreVacations' Marketing Director Kim Turner. "The best way to save on vacation is to stay at a vacation rental property and every day you are reading more about people choosing them as an alternative to hotels. You can save a lot of money because vacation rentals have kitchens so you don't have to eat out for every meal. It is a more relaxed atmosphere - much more like home than the restrictive, insulated atmosphere of a hotel. We had such an enthusiastic response when we first launched our site, we took our guests' feedback and went back to the drawing board to create this new site that incorporated all of their suggestions. We wanted to make something that was fun, something interactive, something that would be the first place traveling families would want to go to make their plans. I think we've done that. It's part of our new slogan - 'A Better Vacation Starts Here'".
On the new site, guests can select from vacation properties ranging from cabins near the Blue Ridge Mountains, beach houses on the shores of the Outer Banks, condos on the Gulf of Mexico or beautiful homes with multiple rooms and levels - suitable for larger family gatherings or groups who might like to travel together to split costs. Or guests can begin their search for their ideal vacation by perusing the various complimentary activities at the different destinations.
"Guests at our Asheville (North Carolina) properties can enjoy a round of golf, admission to an amusement park, white water rafting, a trolley tour, a tour of Lake Lure and in ski season, lift passes to Ski the Wolf - every day of their stay. In Destin (Florida), many of our partners provide a round of golf, tickets to the water park, deep sea fishing, dolphin cruises, amusement park admission and unlimited DVD rentals each day. We're in Florida, North Carolina, Alabama, West Virginia and California and expanding every day. Our guests will write to us to let us know that they really enjoyed a dolphin cruise or seeing the wild mustangs on the Outer Banks - that it was something they might not have thought of or been able to do if it hadn't been included in their stay. Often times it turns out to be one of the most memorable experiences of their trip," concludes Turner.
GetMoreVacations.com was launched in April of 2008 by Amenity Services Inc. (ASI) - the nation's leading provider of amenity programs to vacation rental properties. These programs provide vacationing guests with daily complimentary golf, deep sea fishing, water parks, amusement parks, unlimited DVD rentals and much more. These give guests of vacation rental properties a more "all-inclusive" vacation experience by providing the best activities an area has to offer in one convenient, easy-to-use program. ASI was founded in 1996 and is based in Destin, Florida. ASI currently provides programs in Alabama, Florida, North Carolina and West Virginia and has a large, rapidly growing client base of some of the most respected names in the vacation rental property management industry.
# # #