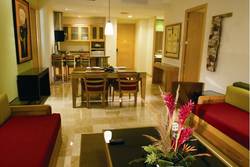 Remember vacation rentals. Remember us: Endless Vacation Rentals. We're your one-stop shop for all your vacation rental needs; from resort condos in Orlando and the beaches of Mexico, to villas in Europe and beyond.
Parsppany, NJ (PRWEB) May 7, 2008
Even with the slow-down of the economy and decline of the dollar, travelers are still looking for that long-awaited summer vacation, but they definitely are looking to save money! A great option available through Endless Vacation Rentals helps traditional and home-based travel agents effectively stretch travel dollars on vacation stays for their clients, while also boosting travel agent earnings. Whether planning a family vacation, a getaway with friends or a romantic escape for two, renting a vacation villa, resort condo, or cottage is a terrific way for travelers to vacation without breaking the bank.
"Vacation rentals are a wonderful bargain, pretty much no matter how you do the math," said John T. Peters CTIE, vice president of Travel Trade and Business Development for Endless Vacation Rentals. "We also know that vacation rentals are perfect for families," continued Peters. "Our vacation rentals typically feature multi-room accommodations with enough space to 'hang out' in. Think about it, no getting the kids dressed and rounded up for breakfast; Just enjoy it as a family in the kitchen! There's plenty of room for the in-laws…you know, the extra bedroom on the other end of the unit with its own bathroom - because it's nice to have them close (okay, but not too close)."
Here are the top reasons how booking a vacation rental with Endless Vacation Rentals helps stretch vacation dollars and boost travel agent earnings:
1. For the cost of a long weekend at a comparable hotel, travelers can often stay for a whole week in a vacation rental. In addition, The "Last Minute Escapes" section of VacationRentals4Agents.com offers close-in deals on studio accommodations for $329* USD per week, one bedroom stays for $379* USD per week, and two-bedrooms and larger for $399* USD per week. These offerings are updated every other Wednesday, are valid for travel within 30 days, and each is for a 7-night stay - even if the traveler doesn't stay all 7 nights, the prices are virtually unbeatable.
2. When you book at VacationRentals4Agents.com, there is no extra charge for additional guests up to the selected accommodations' maximum occupancy - representing a significant per person cost savings on comparable accommodations. Plus once a rental is booked and paid, rates are locked-in and protected against any additional fluctuations of the dollar. Additionally, booking accommodations with Endless Vacation Rentals allows travelers to budget accurately before embarking on their travels with no surprise fees or taxes imposed while they are on vacation.
3. In-room amenities (most units) like major appliances and fully equipped kitchens are a welcome advantage! Travelers can save money on drinks and snack or even the occasional meal when they have a refrigerator in their room. In-room washers and dryers cut-down on expensive laundry services. It's travel made easy for an overall better vacation experience.
4. With such a vast range of options…From studio, one-bedroom, and two-bedroom resort condos in destinations such as Arizona, Florida, Las Vegas, Mexico, and the Caribbean - to villas, cottages and homes in Italy, France, Great Britain and beyond - there are prices and locations to suit just about any traveler's budget and preferences.
5. The $36 billion vacation exchange and rental industry is a growing segment of the market - Clearly, one that agents can't afford to ignore. Booking at VacationRentals4Agents.com helps boost agent earnings with attractive commissions, customarily 12 percent and up to 20 percent on special promotions. Traditional and home-based travel agents can use VacationRentals4Agents.com as a 'live' catalog from which to select accommodations at resort condos, villas, vacation homes and more in destinations across the globe -- then simply book it right there online. Plus, the company also maintains a travel industry hotline for live assistance and a dedicated travel industry sales team.
Here's an example of what kinds of accommodations you can book for your clients: In looking at the Endless Vacation Rentals dedicated agent website today, VacationRentals4Agents.com a two-bedroom unit at the Polynesian Isles Resort in the Orlando, Florida area is $600* per WEEK and it sleeps up to 6 people. That's about $43* USD per person, per night. Are your clients looking to visit Italy? The Montegiovi villa in Italy's Florentine hills is listed at $2,440* USD for a week in May and it sleeps 10 people. That's $35* USD per person per night. Plus, it has five bedrooms, three bathrooms, a pool and views of olive, pine and cypress tree groves.
"So next time one of your clients asks for more than one hotel room, stop and think a moment," said Peters. "Remember vacation rentals. Remember us: Endless Vacation Rentals. We're your one-stop shop for all your vacation rental needs; from resort condos in Orlando and the beaches of Mexico, to villas in Europe and beyond."
Endless Vacation Rentals features a dedicated Web address for traditional and home-based travel agents to book and earn commissions at VacationRentals4Agents.com. This travel agent portal makes searching content, viewing availability in real time, and booking vacation rentals quick and easy - from resort condos in destinations across the U.S., Mexico, and the Caribbean, to country cottages in the U.K. and vacation villas in Italy and France. Plus, its staff of experienced vacation guides is available by phone at 866-844-2017 to assist agents throughout the rental process.
About Endless Vacation Rentals:
Endless Vacation Rentals is among the world's largest global marketers of vacation rental properties with access for specified periods to approximately 60,000 vacation properties worldwide. Endless Vacation Rentals offers online direct booking capability, quality service and support at EVRentals.com for consumers and at VacationRentals4Agents.com for traditional and home-based travel agents to book a vacation rental for their clients as quickly and easily as reserving a traditional hotel room. Endless Vacation Rentals is part of Group RCI, one of the Wyndham Worldwide family of companies, (NYSE: WYN) and the global leader in non-hotel leisure accommodations. For additional information visit grouprci.com or the media center of wyndhamworldwide.com.
*Destinations and travel times are subject to availability and confirmed on a first come, first served basis. Offer includes only accommodations and specifically excludes travel cost and other expenses that may be incurred. Promotional discounts and offers may not apply to all properties. Other restrictions may apply. Offer void where prohibited by law. Additional taxes and conditions may apply.
CST: 2081369-50. Fla. Seller of Travel Reg. No. ST-36515. Nevada Seller of Travel Registration No. 2006-0006. Washington Seller of Travel Reg. No. 602560941. For Web Site Terms and Conditions and Additional Disclosures call 866-844-2017 or go to http://www.VacationRentals4Agents.com.
This inventory is made available by Resort Rental, LLC (operating as Holiday Rentals, LLC in MD and TX), an Indiana-licensed limited liability company, whose principal broker is John Lawrence Hertweck. All Rights Reserved.
Resort Rental, LLC, 7 Sylvan Way , Parsippany , NJ 07054 .
© 2008 Resort Rental, LLC. All Rights Reserved.
###