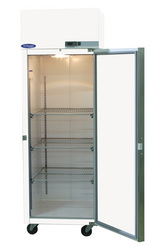 South Orange, NJ (PRWEB) October 28, 2009
Tovatech LLC's vaccine refrigerator manufactured by Norlake offers reliable "cold chain" storage of vaccines across the entire supply chain from manufacturing to administering. Even slight departures from recommended vaccine storage temperatures will reduce potency and could result in inadequate immune response, according to the Centers for Disease Control.
As an additional consideration, new regulations in California term manual defrost refrigerators as unacceptable for vaccine storage because of significant temperature variations. These lab refrigerators have a "cold wall" design that can freeze and damage vaccines in contact with the walls. The preferred alternative is auto defrost refrigerators, which use forced air to help maintain temperature uniformity.
Identified in the California study's buying guide as acceptable for vaccine storage are Norlake laboratory refrigerator model NSPR522WWW/0 (identified as NSPR482) with two doors and an integral digital temperature display, general purpose model LR161WWW/O and undercounter model LR061WWW/O with a user-installed digital temperature monitor.
Norlake Premier models NSPR241WWW/0, NSPR331WWW/0 and NSPR803WWW/8, with one, two or three glass or solid doors are likewise especially designed for exacting performance in the storage of vaccines, other pharmaceuticals and general life sciences applications. All feature user-controlled autodefrost, digital LED microprocessor controls and alarms. They are adjustable to provide stable storage temperatures from 2 to 10 C (35.6 to 50 F).
Nor-Lake Premier pharmaceutical refrigerator models have forced air flow for excellent temperature uniformity throughout the cabinets. Visual, audio and remote alarms signal if refrigerator temperatures move out of the pre-set range. Door locks provide additional protection for vital vaccines. Undercounter autodefrost models NSLR041WMW/0 and NSLR051WMW/0 offer as options a digital temperature monitor with a user-installed Hi/Lo alarm or a Hi/Lo alarm with remote contacts.
Nor-Lake manufactures a wide variety of laboratory refrigerators, laboratory freezers, incubators, environmental chambers and drug stability chambers that are distributed by Tovatech.
For example, flammable storage refrigerators and flammable storage freezers are essential to personnel and property safety when dealing with volatile vapors and gases.
Routine and heavy-duty laboratory storage units are designed to minimize the effect of door openings and changing loads. All units are environmentally responsible without CFCs and many are Energy Star qualified.
About Tovatech LLC
Tovatech LLC is a distributor of laboratory equipment to the US, Canada, and Mexico. The company specializes in digital scales, ultrasonic cleaners and pharmaceutical laboratory equipment. Tovatech is staffed entirely by scientists who seek to aid other scientists in selecting the right laboratory instruments for their work.
Contact: Rachel Kohn, Director
Tovatech LLC
Telephone: 973-913-9735
# # #