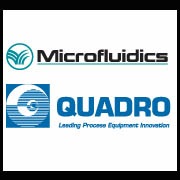 High shear energy technologies ensure control of particle size, as well as produce fast, scalable, consistent batches of vaccines and vaccine adjuvants that perform as expected.
Newton, MA (PRWEB) January 19, 2012
Microfluidics and Quadro Engineering today announced that they will be presenting a free webinar on vaccine development using high shear energy technologies. The webinar will take place live on Thursday, February 2, at 10:00 AM ET and again (live) at 2:00 PM.

The webinar, presented by Thomai "Mimi" Panagiotou, PhD., Microfluidics Chief Technology Officer and Wilf Sangüesa, P.Eng., Liquids Product Manager, Quadro Engineering, will offer data that demonstrates how researchers can achieve micron, submicron and nanoparticle size reductions by using innovative, single pass, high shear energy technologies. These types of high shear methodologies improve vaccine-related emulsions, nanoemulsions, nanosuspensions, slurries and cell disruption.
"High shear energy technologies ensure control of particle size, as well as produce fast, scalable, consistent batches of vaccines and vaccine adjuvants that perform as expected," said Dr. Panagiotou "In addition to demonstrating how prepared products are more bio-available and their production more efficient, the webinar will also discuss how high shear technologies reduce capital investment, manufacturing and maintenance costs."
Webinar attendees will learn more about:
▪ Advancements in cell disruption and wet milling techniques for nanoprocessing of vaccine preparation
▪ Scaling up for rapid production
▪ Ensuring repeatable results at high production volumes
▪ Sterile-filtration
▪ Reducing cleaning times and improving safety through steam-in-place and clean-in-place options
▪ Improving ROI from efficiency gains and overall cost savings
Microfluidics and Quadro Engineering will be presenting webinars throughout 2012. These will include:
▪ Green Technologies - March
▪ Powder Compaction - April
▪ Challenging Environments - May
▪ Nutraceuticals – September
▪ Emulsions - October
▪ Chemical Production – November
About Microfluidics
Microfluidics, a business unit of IDEX Corporation, is the exclusive producer of Microfluidizer® high-shear fluid processors for uniform particle-size reduction, robust cell disruption and bottom-up nanoparticle creation. Pharmaceutical, biotechnology, chemical, cosmetic, nutraceutical, food and energy companies use the processors to research, develop, optimize efficiency for and guarantee scale-up of product formulations from lab to production. Microfluidics has installed more than 3,000 processors at customer sites in 50 countries around the world. The innovative Microfluidics Technology Center near Boston, MA, offers the expertise of engineers with a wide range of nanotech and application experience in proof-of-concept and process-development services. By producing smaller particle sizes and narrower distributions than other technologies, the Microfluidizer processor enables companies to create tiny particles that achieve big results. To learn more, visit http://www.microfluidicscorp.com.
About Quadro Engineering
Quadro Engineering Corp., a business unit of IDEX Corporation, manufactures an innovative line of size reduction mills, mixers, emulsifiers, powder dispersion units, shear pumps, high shear wet mills, security screeners and vacuum conveyors for the Food, Pharmaceutical, Cosmetic/Personal Care and Fine Chemical Industries. Services include custom equipment engineering, a complete Parts & Service Program, and a Rental Program featuring a wide range of Quadro's equipment.
Quadro's extensive experience provides an unmatched depth of industry knowledge in a wide variety of process applications. By building process modules around our core competencies, Quadro engineers work with you to develop a customized solution to your specific processing requirements.
From mills to mixers to complementary product lines, Quadro has earned the respect of customers with widely varied applications in more than 80 countries. For further information, please visit http://www.quadroytron.com.
Contact:
Wendy Rogalinski
Microfluidics
617-969-5452 x 240
wrogalinski(at)idexcorp(dot)com
Wilf Sangüesa
Quadro Engineering Corp.
519-904-2068
wsanguesa(at)idexcorp(dot)com
Editorial Contact:
Barbara Rudolph
Rudolph Communications
781-229-1811
bjr(at)rudolphcommuniations(dot)com
###