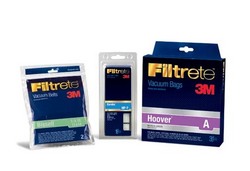 The Line packaging features easy to identify icons and brand names to make it simple for consumers to purchase the correct accessory
Bloomington, Ill. (PRWEB) July 16, 2009
Filtrete™ brand has launched its premium vacuum accessories line - a must-have for consumers who seek superior filtration and a cleaner home environment - in Target stores. The product line at Target features 36 types of bags, filters and belts, covering Eureka*, Hoover*, Bissell*, Dirt Devil*, Kenmore* and Panasonic* brands within the market. All Target stores nationwide now exclusively feature the Filtrete line of vacuum bags, belts and filters.
"The Filtrete Vacuum Accessory Line is a high-quality, comprehensive line of bags, belts and filters that offers consumers a complete solution for their vacuum accessory needs," said Leiah Miller, brand manager for Filtrete Vacuum Accessories. "Consumers also will appreciate the line's easy-to-read design that allows them to quickly find the product they seek."
Superior Filtration
Ordinary paper bags can let as much as 50 percent of micro-particles back into the air. Filtrete vacuum bags easily capture micro-particles including dust, pet dander, allergens, mold and bacteria.
Filtrete vacuum filters provide exceptional filtration performance. Allergen and HEPA filter options both work to ensure loose particles are trapped within the filter and not released into the air.
"Filtrete vacuum accessories provide excellent home filtration to help keep the home clean, which is particularly important for allergy sufferers and pet owners," said Miller.
Eco-Friendly Packaging
The Line also features creative packaging from Filtrete that reduces the overall environmental impact. All chipboard features 80 percent recycled materials and plastic packaging for filters is made from recyclable PETE.**
"The Line packaging features easy to identify icons and brand names to make it simple for consumers to purchase the correct accessory," said Miller. "In addition, a product selector flip book will be housed at the point of sale to make it easier for consumers to select the right product for their vacuum."
Filtrete Vacuum Accessories are manufactured by Electrolux Home Care Products North America, the producer of leading floor care brands Eureka®, Electrolux® and Sanitaire® in cooperation with 3M®, a recognized leader in research and development that produces thousands of innovative products for dozens of diverse markets.
Filtrete bags retail for $3.99 to $8.99, belts from $2.49 to $4.99 and filters from $4.99 and up. The accessories will be available for purchase online at Target. Consumers also can call 1-800-690-5469 for questions about the line.
About Electrolux Home Care Products, Inc.
Electrolux Home Care Products, Inc. leverages consumer driven insight to manufacture and market innovative floor care products under its well-known Eureka and Electrolux consumer brands. The company also sells high-quality commercial products under its Sanitaire brand name and central vacuums made by its Electrolux Central Vacuum Systems division. EHCP N.A. is based in Bloomington, Ill., and is a part of The Electrolux Group, the world's largest producer of appliances for kitchen, cleaning and outdoor use. Visit http://www.electroluxusa.com, http://www.eureka.com, http://www.sanitairevac.com or http://www.beamvac.com for more information.
About 3M - A Global, Diversified Technology Company
Everyday, 3M people find new ways to make amazing things happen. Wherever they are, whatever they do, the company's customers know they can rely on 3M to help make their lives better. 3M's brands include Scotch, Post-it, Scotchguard, Thinsulate, Scotch-Brite, Filtrete, Command and Vikuiti. Serving customers around the world, the people of 3M use their expertise, technologies and global strength to lead in major markets, including consumer and office; display and graphics; electronics and telecommunications; safety, security and protection services; health care; industrial and transportation. For more information, including the latest product and technology news, visit http://www.3M.com.
3M and Filtrete are trademarks of 3M Company, used by Electrolux Home Care Products, Inc., under license.
© 2009 Electrolux Home Care Products, Inc.
*Registered Trademark of respective vacuum manufacturer.
**PETE is recyclable where pick-up or facilities exist. Check with your local recycler.
# # #