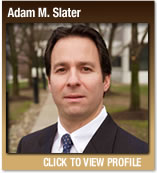 They were initially able to put the Prolift on the market without even telling the FDA, said attorney Adam Slater, who is suing J&J on behalf of more than 100 women.
Roseland, New Jersey (PRWEB) March 22, 2012
The FDA confirmed in a March 16, 2012 communication released to Bloomberg News that the vaginally placed pelvic mesh product known as the Prolift, sold by Johnson & Johnson subsidiary Ethicon, Inc. since March, 2005, was initially marketed without any clearance or approval from the FDA. Ethicon attempted to justify this decision, claiming the Prolift, a vaginal mesh medical device for treatment of pelvic organ prolapse, was legally marketed pursuant to the 510K for a significantly different product.In the March 16, 2012 communication, FDA spokesperson Morgan Liscinsky stated that the: "FDA disagreed with this assertion." The FDA statement unequivocally rejects Ethicon's contention that the Prolift was legally marketed under the 2002 clearance provided to the other device known as Gynemesh PS.
New Jersey attorney Adam M. Slater, who is co-liaison counsel in litigation currently involving approximately 600 consolidated cases in New Jersey, In re Pelvic Mesh Gynecare Litigation, Superior Court of New Jersey, Law Division, Atlantic County, Docket Number ATL-6341-10, Case Number 291, has been pursuing Ethicon through 4 years of litigation claiming that the Prolift is unreasonably dangerous, and that Ethicon failed to properly warn of the risks, and overstated the benefits of the medical device system.
In its March 16, 2012 email to Bloomberg, the FDA spokesperson indicated that the FDA reviewer, "determined that Ethicon should have submitted a separate 510K for Prolift." Mr. Slater welcomed the FDA's acknowledgement that the Prolift, which is marketed as a system including an extensive polypropylene mesh implant, insertion instruments, and what was described by Ethicon in its patient brochures as a "revolutionary surgical procedure," with "rare complications," was sold from March, 2005 through May 15, 2008 without FDA clearance. "Tens of thousands of women had the Prolift surgically implanted in their bodies by surgeons who were misled into believing the Prolift had been cleared by the FDA to be legally marketed in the United States. It is tragic that thousands of these women suffered severe injuries, many of which are catastrophically life altering, as a result."
Commenting further on the history of the Prolift, Mr. Slater stated: "This medical device system was marketed as a revolutionary innovation, when in fact Johnson & Johnson had conducted no clinical studies on the Prolift System before launching the product, while at the same time promoting the system as 'safe and effective.' It is sad that Johnson & Johnson was willing to experiment with the health and safety of women who had the Prolift placed in their bodies, without telling the women and their surgeons that the women were little more than guinea pigs."
The Prolift and similar vaginally placed synthetic mesh products for the treatment of pelvic organ prolapse and pelvic floor defects, known as pelvic mesh and vaginal mesh, manufactured by American Medical Systems (Apogee, Perigee), C.R. Bard (Avaulta), and Boston Scientific, are under tight scrutiny by the FDA. In July, 2011 the FDA issued a public health notification indicating that the risks from these products are not rare, and conducted hearings in September, 2011 at which an FDA panel considered recommendations to reclassify or even direct a recall of such devices.
In response to the FDA's 2011 notification, leading medical organizations issued statements confirming the serious issues with these medical devices. In jointly issued Committee Opinion 513 released on November 21, 2011 the American Urogynecologic Society and the American College of Obstetricians and Gynecologists found that the purported benefit of such products, that they would provide more durable and longer lasting repairs, is not well-supported.
About Adam Slater, Esq. and Mazie Slater Katz & Freeman, LLC:
Mazie Slater Katz & Freeman, LLC is a prominent personal injury law firm whose attorneys are are aggressively pursuing products liability claims on behalf of women throughout the United States who have suffered severe complications as a result of the Gynecare (Ethicon) Prolift Anterior, Posterior, and Total Pelvic Floor Repair Systems, Bard Avaulta Pelvic Floor Repair Systems, Boston Scientific Uphold and Pinnacle Pelvic Floor Repair Kits, American Medical Systems (AMS) Apogee, Perigee and Elevate Prolapse Repair Systems and related mesh products.
Partner Adam M. Slater, a New Jersey certified civil trial lawyer, has been appointed as plaintiffs' Co-Liaison Counsel in the consolidated cases proceeding in New Jersey State Court against Gynecare, Ethicon and Johnson & Johnson, In re Pelvic Mesh Gynecare Litigation, Superior Court of New Jersey, Law Division, Atlantic County, Docket Number ATL-6341-10, Case Number 291, which encompasses most of the cases pending against these defendants in the United States.