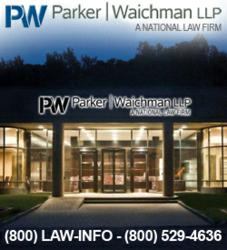 New York, New York (PRWEB) July 19, 2012
Parker Waichman LLP, a national law firm dedicated to protecting the rights of victims injured by defective medical devices, has filed a lawsuit alleging that two transvaginal mesh products, the Gynecare Prolift + M Pelvic Floor Repair System and the Gynecare TVT Obturator System, caused serious damage in one woman. The suit was filed on July 12th in the U.S. District Court for the Southern District of West Virginia, Charleston Division (Case No. 2:12-cv-03167) where it is one of many cases pending in the transvaginal multidistrict litigation as part of the In Re: Ethicon, Inc. Pelvic Repair System Products Liability Litigation (MDL No. 2327). Chief Judge Joseph R. Goodwin is presiding over the multidistrict litigation. Ethicon, Inc., Ethicon Women's Health and Urology, Gynecare and Johnson & Johnson have been named as Defendants.
According to the Complaint, the Plaintiff, a woman from Nassau County, New York, was implanted with the Gynecare Prolift + M Pelvic Floor Repair System and Gynecare TVT Obturator System in July 2009. The lawsuit alleges that the defective products caused the Plaintiff to experience significant mental and physical pain and suffering, permanent injury, permanent and substantial physical deformity and loss of bodily organ system.
Transvaginal mesh is approved to treat pelvic organ prolapse and stress urinary incontinence. Most of the devices, including the ones implanted in the Plaintiff, were approved for sale without being tested for safety or efficacy due to the 510(k) route. This fast-track approval exempts the need for clinical testing if the device is deemed "substantially equivalent" to previously approved products.
According to the lawsuit, it is now clear that transvaginal mesh is defective in a number of ways. The suit alleges that the material used in the mesh is not inert, meaning that it will react with human tissues. As a result of the defective nature, the lawsuit says, the mesh exposes women to an unreasonable risk of vaginal erosion, infection, extrusion, perforation, chronic pain and/or abscess. The lawsuit further alleges that the Defendants knew or should have known about the safety risks of the devices, but continued to market them nonetheless.
The U.S. Food and Drug Administration (FDA) has warned that complications from transvaginal mesh are "not rare," noting that there may be no benefit to using this device over non-mesh procedures. In January, the agency asked a number of manufacturers, including Johnson & Johnson, to conduct post-market studies of transvaginal mesh.
Last month, Johnson & Johnson said that they would no longer sell four transvaginal mesh products, including the Prolift, Prolift + M, TVT Secur and Prosima systems. In its letter to Judge Goodwin, the company also asked for the post-market studies to be postponed.
Johnson & Johnson already had issues with the marketing of Prolift. J&J launched the device in 2005 without FDA approval. J&J claimed that attaining formal approval was unnecessary because the Prolift was so similar to the Gynemesh, which was already approved. The FDA disagreed and asked the company to stop marketing Prolift until proper approval was obtained. However, recent evidence shows that Johnson & Johnson continued to sell the device for nine months after the FDA asked them to halt sales.
Parker Waichman LLP continues to offer free lawsuit consultations to victims of transvaginal mesh injuries. If you or a loved one experienced complications following POP and SUI surgery with transvaginal mesh, please visit the firm's transvaginal mesh injury page.
Free case evaluations are also available by calling 1 800 LAW INFO (1-800-529-4636).
For more information regarding transvaginal mesh lawsuits and Parker Waichman LLP, please visit: yourlawyer.com or call 1-800-LAW-INFO (1-800-529-4636).
Contact:
Parker Waichman LLP
Gary Falkowitz, Managing Attorney
(800) LAW-INFO
(800) 529-4636
http://www.yourlawyer.com