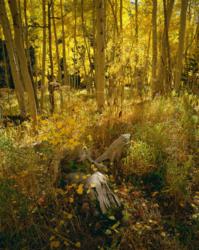 You won't believe the great colors this fall, and the lineup of events into December are attractive to locals and vacation visitors alike.
(PRWEB) September 29, 2012
Colorado's fall colors are some of the most vibrant anywhere. Taking a scenic mountain drive through an aspen forest is one reason to spend a few days in Vail during early October.
Vail Restaurant Month is another. More than 50 events are scheduled every day through October 14. Star chefs, singular dining experiences, wine and beer tastings, health/wellness/spa packages, romantic getaways, family fun, seminars, chef demos, recipes, family cooking experiences, last minute Vail lodging packages, fashion trunk shows, art gallery receptions, celebrity author readings and book signings, outdoor adventures, and many more special and one-of-a-kind activities happening this fall in the world's most beloved mountain destination.
And Vail Snow Daze is a third reason to visit. This is Vail's 50th winter season and the kickoff December 10 through 16 features live concerts with Wilco, Michael Franti & Spearhead and The Shins. Tickets are available online.
What Fall Color Viewing Drives Do Vail, Colorado Residents Use Most?
Tim Parker, owner of Vail vacation rental company Gore Creek Properties has been traveling Vail mountain roads for more than 16 years.
"These are the routes I use to get out of town and see the large clusters of aspen groves. Don't forget your camera," Parker said.

Vail Mountain and East Vail
Trails such as Berry Picker on Vail Mountain and the North Trail, which parallels I-70 along the north side of the highway, offer beautiful golden aspens and panoramic mountain views. East Vail trails good for fall color viewing include Bighorn Creek, Booth Creek and Gore Creek.
Battle Mountain and Tennessee Pass
Take Interstate 70 to U.S. Highway 24 at Minturn and head south along this scenic byway. On the ascent up Battle Mountain toward Red Cliff, the aspens have turned brilliant shades of yellow and orange, with the occasional reds scattered throughout.
On the north side of I-70 in Vail is Red Sandstone Road, which leads to some quick and close fall colors viewing. The road is bumpy and a slow ride in a car, and there will likely be heavy traffic both from cars and mountain bikers.
Beaver Creek Village and Bachelor Gulch offer access to both hiking trails and scenic drives through aspen groves. East Lake Creek in Edwards is also a good trail for viewing mid-valley aspens.
A drive down Brush Creek Road, south of Eagle, toward Yeoman Park or Sylvan Lake State Park is full of colorful hillside views of aspens.
Cool Chick Shops In Vail
"The wives always want to know the cool shops in the area that sell clothing for women and girls, usually as soon as they check in," Parker explained. "Right now, before the ski season, there are some great shops that have unique styles and fun clothes for everyday wear or for special occasions. It really is a fun trip to explore these shops and have another adventure, aside from your fall walks or restaurant explorations," Parker said.