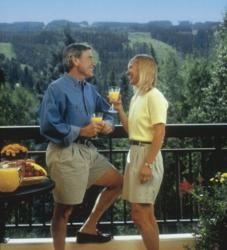 The Lodge at Lionshead is great for groups and families because it offers a wide variety of condominiums in a hotel-like atmosphere.
Vail, Colorado USA (PRWEB) March 27, 2012
Many travel groups think of Vail, Colorado as a winter enthusiasts destination, but quite a few are beginning to realize that this mountain resort has something to offer everybody in the Spring, Summer and Fall as well. Groups that reserve at lest five Vail vacation rentals for the same time period will save up to 20% at the Lodge at Lionshead.
Fred Schweiger, who organized his family reunion for July, last year, said, "Every one of the adult family members said the Vail experience was the best ever. Your staff went out of their way to make us feel at home and meet our every need. From my personal point of view, this group distinguishes the Lodge at Lionshead from the other fine accommodations at Vail."
The Lodge at Lionshead is great for families because it offers a wide variety of condominiums in a hotel-like atmosphere. On the books for this Summer already, several more family reunions, wedding parties and the Bob Johnson Hockey School which has used us as their lodging partner for over 15 years. " The family friendly nature of the property is what people tell us brings them back year after year in the Summer," explains Marketing Director, Leslie Robertson.
Some of the top reasons groups should consider the property besides its' central location in the Lionshead village are, discounted rates when 5 or more units are reserved and a dedication to group services and amenities. As Leslie puts it, "We do all the work so you can have fun!" Additionally, guests will find outdoor heated pools and hot tubs, fitness center and sauna facilities as well as complimentary internet wifi access.
Vail is a great place to beat the heat of Summer. The lodging rates are at their lowest and the variety of recreational and cultural diversions beckon you to break away from the crowds of traditional Summer destinations.
The is still availability for peak travel dates including Memorial Day, the July 4th Holiday, and Labor Day weekend. Book early for the best rates and dates. Contact Leslie Robertson 970-476-2700 to receive a quote for your group. Visit http://www.lodgeatlionshead.com for additional detals.