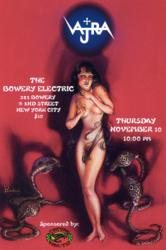 "Take a trip to India with Vajra. You want something new? This is It"
- Through the Sound Barrier
New York, NY (PRWEB) November 02, 2011
Vajra brings their thunderous music and multimedia performance to The Bowery Electric on November 10 at 11pm. In keeping with Vajra's tenebrous, mystical music, Vajra will lead their audience to the mysterious 11-11-11, and the show is one you won't want to miss.
The band will perform songs from their debut album "Pleroma", a haunting exploration of paradox, written during Annamaria Pinna's self-imposed exile in India. Annamaria's powerful vocals are highlighted by Blake Fleming (The Mars Volta) on drums, Doug Wright (The Dirty Pearls) on bass, and Will Dahl (Harley's War) on guitar.
Vajra's music is hauntingly dark and hypnotic weaving Eastern Indian themes with melodic, progressive rock creating foreboding and mysterious lullabies. Sylvia Massy (Tool, System of A Down, Prince, Johnny Cash) co-produced the vocals and mixed. Tom Baker (NIN, Foo Fighters, Ministry, Prince) mastered.
The band is quickly generating a buzz after releasing their first single "Inside The Flame". Virgin America just accepted Vajra's yet unreleased single "Erode The Will" to be featured on their In-Flight Entertainment for December 2011.
"Vajra was formed by composer, singer and multi-instrumentalist, Annamaria Pinna …[while living] in India, and you can indeed hear an exotic influence in her songs, which though carry a very western tension and darkness. Overall her uptempo music could be described like an alt-rock version of Dead Can Dance. We are sure there is a numerous group of teenagers somewhere in the US suburbs who can fall in love with this lady and her tenebrous music."

The Deli Magazine NYC, The Deli Magazine NYC (Oct 07, 2011)
"Newcomer Vajra to Set Underground NYC Music Scene Ablaze: Debut Single "Inside The Flame" Released, Vajra's First Album "Pleroma" to Follow in Spring 2012...."

Yahoo News (Sep 13, 2011)
"Take a trip to India with Vajra. You want something new? This is It"

Through the Sound Barrier (Aug 18, 2011)
Tickets for the November 10 performance at The Bowery Electric are $8 and are available at the box office. For more information, contact :The Bowery Electric at: 327 Bowery (at 2nd St.), New York, New York 10003, 212-228-0228.
Vajra currently does not have a record deal.
For more info about Vajra, please go to the following pages at:
http://www.reverbnation.com/vajra
https://www.facebook.com/vajratemple
http://www.twitter.com/vajratemple
The debut single, "Inside The Flame" is available on Itunes here: http://itunes.apple.com/us/artist/vajra/id458093151
For more information:
Angela Blando
Vajra Temple
(845) 430-6283
vajratemple(at)gmail(dot)com
###