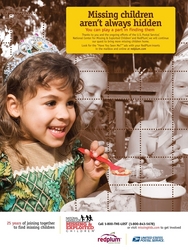 Together, Valassis, NCMEC and the USPS have dedicated 25 years to the recovery and protection of children
Livonia, Mich. (Vocus) February 5, 2010
Valassis (NYSE: VCI), one of the nation's leading media and marketing services companies, announced today the display of a new call-to-action poster in 33,000 post offices across the country. The poster asks the public to get involved in the search for missing children – a cause featured across its RedPlum™ portfolio. RedPlum is the consumer brand of Valassis.
The poster of a child at a birthday party with a message that missing children aren't always hidden will be displayed through the end of May. The poster will be visible in United States Postal Service (USPS) lobbies nationwide to celebrate the 25th anniversary of Valassis' "Have You Seen Me?®" Program in partnership with the USPS and the National Center for Missing & Exploited Children (NCMEC) and to raise awareness for this important effort. The posters, created by Valassis, provide a call to action for the public to look for the "Have You Seen Me?®" photos in RedPlum products and online at redplum.com.
"Together, Valassis, NCMEC and the USPS have dedicated 25 years to the recovery and protection of children," said Vince Giuliano, Valassis Senior Vice President, Government Relations. "This program has fundamentally changed the way America searches for its missing children. Every day, when people take just a moment to look at these pictures they play a very important role to bring a child safely home. Since 1985, of the more than 2,000 children featured, over 1,100 have been recovered through photo distribution programs like ours and other efforts."
Valassis' Missing Children Program is based on four simple goals: help find missing children; raise awareness about missing children and sensitivity to the issue of missing and exploited children; serve as a deterrent to would-be abductors; and make sure that no missing child is ever forgotten. Each week Valassis distributes pictures and information of missing children to more than 100 million households. Photographs are the No. 1 tool for law enforcement to recover a missing child, and photos provide much needed hope for searching families. The "Have You Seen Me?®" program is featured on the RedPlum Direct Mail Package, RedPlum free-standing insert (FSI) and on redplum.com.
About Valassis
Valassis is one of the nation's leading media and marketing services companies, offering unparalleled reach and scale to more than 15,000 advertisers. Its RedPlum media portfolio delivers value on a weekly basis to over 100 million shoppers across a multi-media platform – in-home, in-store and in-motion. Through its interactive offering – redplum.com – consumers will find compelling national and local deals online. Headquartered in Livonia, Michigan with approximately 7,000 associates in 28 states and eight countries, Valassis is widely recognized for its associate and corporate citizenship programs, including its America's Looking for Its Missing Children® program. Valassis companies include Valassis Direct Mail, Inc., Valassis Canada, Promotion Watch, Valassis Relationship Marketing Systems, LLC and NCH Marketing Services, Inc. For more information, visit http://www.valassis.com or http://www.redplum.com. To learn about advertising opportunities with RedPlum, please call 1-800-437-0479.
Media Contact:
Mary Broaddus
Director, Investor Relations and Corporate Communications
734-591-7375
###