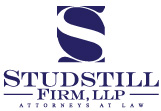 This office has a great location, and now gives us the opportunity to provide our clients with expanded and more convenient service.
Valdosta, Georgia (PRWEB) June 30, 2012
Studstill Firm, LLP, a well-established AV Rated law firm, has opened a new office in Valdosta. This is the third location for the Georgia law firm, which is owned by partners Daniel L. Studstill and Haynes M. Studstill.
The new office is located at 311 N. Patterson Street, Suite A, Valdosta, Georgia 31601, and is already open to clients. The firm's partners expect this office to complement the firm's locations in Macon and nearby Nashville, Georgia in serving the needs of South Georgians from Valdosta, Tifton, Moultrie and other areas.
"We've been representing individuals and families from Lowndes and the surrounding counties for many years," said Danny Studstill. "This office, however, has a great location and now gives us the opportunity to provide our clients with expanded and more convenient service."
Originally from Lakeland, Georgia, Danny Studstill has been representing clients in personal injury, real estate, and estate planning matters for over 30 years from his law office in Nashville, Georgia. His partner, Haynes Maier Studstill, is his daughter-in-law and a well-respected accident attorney originally from Rome, Georgia.
Haynes was enthusiastic about the move to Valdosta. "Not only do we get to take an active role in the Valdosta /Lowndes County business community, but we are also excited to take advantage of everything South Georgia has to offer."
In recent years, the lawyers at the Studstill Firm, LLP have been recognized as some of the top injury attorneys in the state due to their large recoveries for clients involved in car accidents, as well as families with wrongful death claims. The firm also provides assistance to individuals and businesses in simple to complex estate planning and real estate transactions. With three law offices in Macon, Valdosta, and Nashville, Georgia, the firm is now more strategically located to serve the needs of individuals and families in South Georgia.