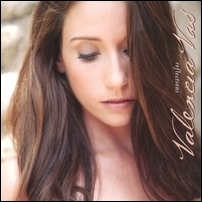 I saw a tribute and heard quotes from the people directly affected by the tragedy. It inspired me and I had to get my feelings down. The song is a general depiction of the weight and loss of that day.
Thousand Oaks, CA (PRWEB) March 8, 2007
Female vocal master, Valencia Vas, released her debut album on March 1st, 2007, through independent record label, Providence Records. The album, "Reflections," is a culmination of her experience as a classically trained soprano and her advanced education in music. "This album reflects a milestone in my career that was inspired by my journey as an artist. I wanted to use my voice like colors in a pallet. I'm using different qualities at different places in the music. The album is a reflection of sound and color." said Vas.
Valencia attempts to break into the male-dominated Crossover Classical chart with such artists as Josh Groban, Andrea Bocelli, and Il Divo at the top of the rankings. "I feel like I can add something unique to the genre through my professional experience, my deep understanding of music, and my vocal and artistic range." said Vas. Being a woman in this genre, Valencia is presented with a challenge, but she is no newcomer when it comes to facing tough situations.
Born into a poor family in Northeast Pennsylvania, Valencia overcame many early obstacles before succeeding in recording her debut album, "Reflections". With an abusive, alcoholic father who often scrounged to put food on the table, Valencia quickly learned to deal with the minimum in life. When her father disappeared, like his Native American father before him, Valencia's mother struggled to maintain the household, keep a job, and raise three children. Valencia was forced to become independent at an early age.
Born with a naturally pure voice and an unrelenting interest in acting, Valencia pursued the arts as an escape to the struggles of her childhood. She visited New York City often and took advantage of local opportunities to act and sing. By the time she graduated from high school, she had already developed a healthy performance résumé. This early experience, an excellent academic record, and a natural talent with vast potential gained Valencia admission into New York University's Stella Adler Conservatory of Acting. It wasn't long before Valencia realized that her voice was her main passion and decided to leave acting school to attend a university of music. She combined her talent in music with her passion for acting by studying to become an opera singer at Westminster Choir College.
After completing her undergraduate studies, Valencia continued to perform professionally in order to gain a deep understanding of the many forms and beauties of music and its purpose in peoples' lives. Two years later, Valencia received a full scholarship to the University of Southern California's voice program seeking her Masters in Music. While there, she also taught voice as an adjunct professor and founded the Black Box Opera, an organization to introduce opera and classical music to inter-city children.
After completing her Masters degree, Valencia gained professional jobs on the concert stage in Southern California and New England. While performing though, Valencia saw small crowds and a lack of general interest in this art form. She wanted to bring her music to a more commercial level. With the purpose of making beautiful classically rooted music in a more popular form, she began her adventure with independent record label, Providence Records.
Valencia collaborated with prolific film composer Ludek Drizhal to create textural music containing pure, angelic, and diverse vocals set against soundtrack-like symphonic backgrounds. Drizhal, who wrote the music for ten of the songs on the album, has written stylistically wide-ranging film scores, countless original songs, incidental music for theater productions, and numerous orchestral and chamber ensemble concert pieces, many of which have received critical acclaim.
Valencia composed and/or arranged several of the tracks and wrote all of the original lyrics on the album (of which two are in Spanish and two are in Italian). The first song on the album, "Home", was written about the families and troops making the ultimate sacrifices in war. "'Home' was written as a tribute to the plight of the women whose husbands serve overseas in the military. I wanted to pay homage and show my appreciation of the sacrifices they are making." Vas said.
The tenth track, called "Remembrance" was written on the fifth anniversary of Sept. 11, 2001. "I saw a tribute and heard quotes from the people directly affected by the tragedy. It inspired me and I had to get my feelings down. The song is a general depiction of the weight and loss of that day." said Vas.
"Reflections" is the latest chapter in Valencia's story and will enable people to experience music at a new level by enhancing the emotional spark in the listening experience.
"Reflections" is immediately for sale worldwide through http://www.ValenciaVas.com.
Other Credits:
Recorded with the Budapest Radio Symphony Orchestra in Budapest, Hungary
Recording, Engineering, and Mixing by RG Music Worldwide
Additional Recording, Engineering, and Mixing by Chris Spilfogel at Westlake Audio Studios in Los Angeles, California
Guitar Solos in "Me Dices" and "Il Voto" played by Almer Imamovic
Mastered by Stephen Marsh at Threshold Mastering in West Los Angeles, California
Piano Arrangement and Performance by Doron Kochli on "Remembrance"
Piano Arrangement and Performance by Cheryl Lin on the transitional song "Lament"
###