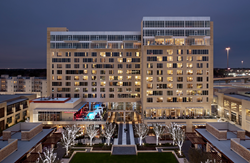 "We are thrilled that all three hotels in our award-winning collection were recognized by discerning travelers for this prestigious honor" says Doyle Graham, Jr., President and CEO of Valencia Group
San Antonio, TX (PRWEB) November 05, 2014
Condé Nast Traveler readers have named three Valencia Group properties to the magazine's 2014 Readers' Choice Awards list. With a score of 93.150/100 Hotel Sorella CITYCENTRE in Houston and Hotel Valencia Riverwalk with a score of 90.750/100 in San Antonio placed at #1 and #4 in the Top 15 Hotels in Texas, while Hotel Valencia Santana Row in San Jose was #17 among the Top 25 Hotels in Northern California with a score of 84.827/100. Hotel Sorella CITYCENTRE's impression scores secured them a spot on the Reader's Choice list of "Top 100 Hotels in the World" and "Top 25 Hotels in the United States". The acclaimed trio was developed and are owned and operated by the Valencia Group, a 15-year-old Texas-based corporation that acquires, develops, and manages character-rich hotels that incorporate worldly design and local culture.
The Condé Nast Traveler Readers' Choice Survey, begun in 1988, is available through a secure Web site at condenasttraveler.com/vote. This year's tabulations of 76,659 responses were done by Equation Research Organization. The questionnaire contains lists of candidates in various categories (Cities, Hotels, etc.). Candidates must receive a required minimum number of responses to be eligible for a Readers' Choice Award. Individual candidates are judged on a set of criteria relevant to their category, based on a standard five-point scale: excellent, very good, good, fair, and poor.
"We are thrilled that all three hotels in our award-winning collection were recognized by discerning travelers for this prestigious honor," said Doyle Graham, Jr., President and CEO of Valencia Group. "These rankings confirm that our guests support our commitment to creating hotels with a keen sense of place, thoughtful amenities, timeless design and attentive service."
Graham, recently named "Hotelier of the Year" by Boutique & Lifestyle Lodging Association, is the visionary and thought-leader behind building the Valencia Group hotel collection and attributes much of the company's success to its unique management approach and efficient cost structure which have made the Valencia Group a leading market performer with consistent customer satisfaction ratings above the 90th percentile.
About Valencia Group
Houston-based Valencia Group is a fully integrated hospitality company that provides management, development, branding and repositioning services for independent, full-service hotels owned by the company, in addition to third parties. Exceptional service, style and location are the trademarks of Valencia Group properties, which have earned both national and international recognition for their distinctive designs, amenities and settings. Valencia Group continues to forge a niche with hotels that anchor and add value to urban, mixed-use environments, which further support or enhance the guest experience with superior residential, restaurant, retail and office components. Signature properties include: Hotel Valencia Santana Row in San Jose, CA; Hotel Valencia Riverwalk in San Antonio, TX; Hotel Sorella CITYCENTRE in Houston, TX; and Hotel Sorella Country Club Plaza in Kansas City, MO. Valencia Group's newest concept, Lone Star Court, is a reinterpretation of the nostalgic motor court. The recently opened flagship is located at The Domain in Austin, TX. All have become destinations and gathering places within their respective communities, some further benefitting from and enriching their location within the cultural heart of a city. For more information, please visit http://www.valenciagroup.com.