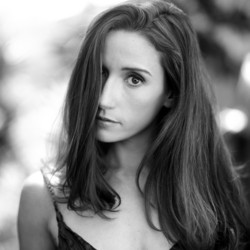 Nobody at Head Start told me I couldn't do something. They instilled the idea of possibility in me
Los Angeles, CA (PRWEB) August 1, 2008
Celebrating the successes of Pennsylvania's Monroe County Head Start program, Crossover Classical vocalist Valencia Vas will perform at a benefit concert at the Sherman Theatre in Stroudsburg on Wednesday, August 5th at 7:30PM. The concert will be a homecoming for the Head Start graduate and current Los Angeles resident. Vas, who grew up in Swiftwater, Pennsylvania, is excited to lend her voice to celebrate the institution that provided her early childhood foundation. "Nobody at Head Start told me I couldn't do something. They instilled the idea of possibility in me," says Vas.
Born into a poor family in Northeast Pennsylvania, Valencia overcame many early obstacles before succeeding in recording her debut album, "Reflections". With an alcoholic father who often scrounged to put food on the table, Valencia quickly learned to deal with the minimum in life. When her father disappeared, Valencia's mother struggled to maintain the household, keep a job, and raise three children. Valencia was forced to become independent at an early age, but fortunately, had early positive encouragement from the Head Start program.
Pennsylvania's Head Start program is part of a national child development program for children from birth to age 5, which provides services to promote academic, social and emotional development, as well as providing social, health and nutrition services for income-eligible families. As a youth, "Head Start gave me a foundation and understanding that I was not limited by my situation. Because of it, I didn't know I was underprivileged until I was no longer underprivileged. In many ways, it leveled the playing field."
With a naturally pure voice and an unrelenting interest in acting, Valencia later pursued the arts as an escape to the struggles of her childhood. She visited New York City often and took advantage of local opportunities to act and sing. By the time she graduated from high school, she had already developed a healthy performance résumé. This early experience, an excellent academic record, and a natural vocal talent gained Valencia admission into Westminster Choir College.
After completing her undergraduate studies, Valencia continued to perform professionally in order to gain a deep understanding of the many forms and beauties of music and its purpose in peoples' lives. Two years later, Valencia received a full scholarship to the University of Southern California's voice program seeking her Masters in Music. While there, she also taught voice as an adjunct professor and founded the Black Box Opera, an organization to introduce opera and classical music to inter-city children.
After completing her Masters degree, Valencia gained professional jobs on the concert stage in Southern California and New England. While performing though, Valencia saw small crowds and a lack of general interest in this art form. She wanted to bring her music to a more commercial and contemporary level. With the purpose of making beautiful classically rooted music in a more popular form, she began her adventure with independent record label, Providence Records, by recording "Reflections."
The Head Start Benefit Reunion Concert will be held at the Sherman Theater in Stroudsburg. Vas will performing selections from her debut album 'Reflections,' which has received radio airplay across 31 states and territories, Sirius XM Radio, and international internet radio shows. Appearing at the benefit concert with Valencia will be award winning international flute and guitar duo, AlmaNova and Emmy-award winning keyboardist/composer, Kevin Stoller. Tickets are $25 for the performance only or $50 for both dinner and the performance. If people are unable to attend, they can donate tickets to families that can not afford the tickets. For more information, please visit http://www.ShermanTheater.com or call the box office at 570.420.2808.
Stroudsburg is only one stop on Valencia's east coast tour that includes performances at the Huntington Summer Arts Festival on Long Island, NY, the first annual Unicity Performing Arts Festival in Middletown, DE, a Victorian Garden Concert in Belvidere, NJ, and the 25th Anniversary of Musikfest in Bethlehem, PA.

Huntington Summer Arts Festival - Huntington, NY - July 31st at 8:30PM
Unicity Performing Arts Festival - Middletown, DE - August 2nd at 1:25PM
Victorian Garden Concert Series - Belvidere, NJ - August 3rd at 7:00PM
Sherman Theater Head Start Concert - Stroudsburg, PA - August 5th at 7:30PM
Musikfest 25th Anniversary - Bethlehem, PA - August 6th at 7:30PM
With her classically trained voice sung against contemporary music, Valencia captivates audiences with a range of diverse vocals including soft prayer, colorful texts, and powerful climaxes. For additional information about Valencia Vas, including photos, videos, and a new wine song pairing for Valencia's music, please visit http://www.ValenciaVas.com .
###