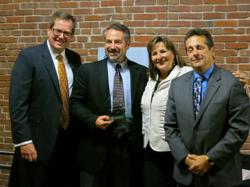 Duct Tape Marketing Consultants receive rigorous training just to be a part of the network, but Certified Consultants have also demonstrated a mastery of the principals contained in the Duct Tape Marketing System by successfully producing results
Boise, ID (PRWEB) November 01, 2012
David C. Smith, of Valens Point was recently elevated to the level of Certified Duct Tape Marketing Consultant. This award was presented at the Annual Gathering of the Duct Tape Marketing Consultant Network in Kansas City, Missouri this October.
John Jantsch, author of Duct Tape Marketing and founder of the Duct Tape Marketing organization developed the certified level for the company's Marketing Consultants to acknowledge those consultants that placed a heavy emphasis on the success factors of the Duct Tape Marketing System. Consultants in the network were required to demonstrate successful client results, including marketing plans, marketing materials and testimonials obtained through installing the Duct Tape Marketing System.
"All Duct Tape Marketing Consultants receive rigorous training just to be a part of the network, but Certified Consultants have also demonstrated a mastery of the principals contained in the Duct Tape Marketing System by successfully creating positive marketing results for their clients. I am proud to announce that David has achieved this advanced level of success," said John Jantsch, founder of the Duct Tape Marketing Consultant Network.
David remarked, "I'm proud to be recognized with such a stellar group of professionals and would like to thank John Jantsch, the Duct Tape Marketing organization and Consultant Network, and acknowledge the other consultants that achieved this level; Randy Aimone, Dave Develder, Debbie DeChambeau, Paul Davis, Ann Gusiff, Laura Lorenz, and Dawn Westerberg.
The Duct Tape Marketing system has grown exponentially worldwide due to its unique proven marketing system for small to mid-size businesses complimented with a high caliber marketing professional to help the owner with creation and implementation. Founder and author, John Jantsch, is well known for his ability to identify and implement new and upcoming techniques that allows the marketing system and consultants to stay on top of what is practical, affordable and effective in small business marketing.
David C. Smith stated, "This system helps small business owners build a marketing system based on solid strategy, which is something most have neglected while they have engaged in unsuccessful tactics. The result is that they stop wasting money on marketing, improve profitability, and grow their business."
About Duct Tape Marketing
Duct Tape Marketing is a unique turnkey small business marketing system and network of talented marketing consultants, created by award-winning small business marketing expert and author John Jantsch. Visit the Duct Tape Marketing Blog, a Forbes favorite for small business.
About Valens Point LLC
Valens Point, LCC helps small business owners increase the value and 'sellability' of their companies. Owners should be rewarded for their hard work and personal investment at transition time – we help you achieve this. Valens Point's services are aimed at increasing revenue and improving profitability systematically and in a manner that helps our clients achieve both their business and personal goals. We deliver measurable results that increase your business value by focusing on the implementation of practical changes based on simple, actionable, and measurable advice.