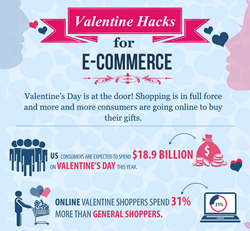 Valentine's Day offers e-commerce businesses a great opportunity to gain market share and increase their bottom line. Growth hacking, when used correctly, is a simple way to get fast results
Atlanta, GA (PRWEB) February 12, 2015
Looking for a sweet tip to increase sales for your online business this Valentine's Day? Look no further. Entrepreneur Youssef Hodaigui delivers a great infographic with all the tools you need to get quick results and boost that bottom line for February. Hodaigui has over 10 years of expertise in online marketing and product management and loves to share his tips with fellow growth hackers. His website, youssefhodaigui.com, contains useful information about online marketing, growth hacking, product management and web strategy.
View the infographic here: http://www.youssefhodaigui.com/valentine-hacks-for-e-commerce-infographic/
"Valentine's Day offers e-commerce businesses a great opportunity to gain market share and increase their bottom line. Growth hacking, when used correctly, is a simple way to get fast results," says Hodaigui. "I've been using growth hacking as a strategy for my clients for years now and I can testify that it works. This is my Valentine for growth hackers everywhere!"
Hodaigui has expertise in online marketing and has embraced the strategy behind growth hacking, using them to develop and implement successful online marketing campaigns for over 100 businesses of all sizes. He has a deep understanding of product management that enables him to deliver on multiple platforms. As an online marketer with over a decade of experience, his expertise has been instrumental in increased growth, revenue and ROI for his clients.
Youssef Hodaigui is principal and owner of effectus360, an online marketing agency offering full-service website design, custom programming and Internet marketing services for multi-sized businesses. Hodaigui is also partner and head of product management with Atlanta-based uServia, a mobile workforce management startup, where he leads and motivates a global team of designers, developers and content strategists in creating, implementing and maintaining mobile and web applications.
Youssef Hodaigui's website is located at http://www.youssefhodaigui.com. More information can also be obtained by visiting https://twitter.com/youssefhodaigui