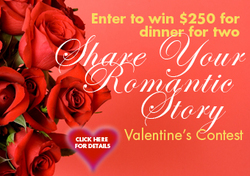 Share Your Most Romantic Story
Garden City, NY (PRWEB) January 24, 2008
Celebrate with Style today announced its second "Share Your Most Romantic Story" Valentine's contest. Contestants are invited to share their romantic stories for a chance to win $250 for a fabulous dinner for two at the restaurant of their choice.
"Romantic stories can relate to almost anything," said Celebrate with Style publisher JoAnne Alter. "An entry can be about something a 'Special Someone' does all the time. Or it can be or a story about a particular occasion -- a first meeting or date, birthday party, marriage proposal or anniversary, for example.
"Last year's Valentine's contest winner sent in the story of a first date at the beach," Alter reported. "She told us that after leaving the beach at dusk, she realized that she had lost an earring that had been given to her by her late mother. She was heartsick.
"Her date dropped her off at her home. Then, without letting her know, he drove to his own home, picked up a flashlight, went back and combed the beach in the dark until he found the earring.
"She wrote in her contest entry that the second she saw that earring, she knew that this wonderful and caring man would someday be her husband. They recently celebrated their first anniversary!
"All of us have romantic stories that make us smile," Alter said. "This Valentine's contest lets people recall and share warm everyday moments or memorable one-time events or even surprises. It also offers the chance to win an elegant $250 dinner."
Another nice feature of the Valentine's contest, she added, is that it's free -- there's no purchase necessary. "All of our contests are absolutely free. And Celebratewith Style.com won't share personal details or contact information."
The deadline for entering the Valentine's contest is February 6, 2008.
The winning entry -- plus romantic stories submitted by 5 runners-up -- will be posted on the site on February 12, 2008. For contest details, go to http://www.CelebratewithStyle.com.
About http://www.CelebratewithStyle.com:
Celebratewithstyle.com is the first comprehensive guide to planning wonderful celebrations for family members and friends. CelebratewithStyle.com also helps site visitors plan parties for holidays and for business social, and fundraising events. It offers clever ideas, tips and advice from experts on food, fashion, and décor. And it provides party planning tools for kids' birthday parties, coming-of-age celebrations and wedding-related festivities.
# # #