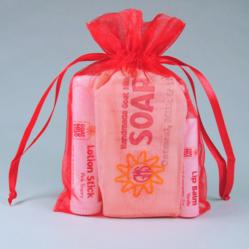 Goat Milk Stuff's reasonably-priced luxurious goat milk soaps and lotions are a way to show you care.
Scottsburg, IN (PRWEB) January 11, 2013
While candy and flowers typify Valentine's Day, gifts that pamper for more than moments can make the day even more memorable. GoatMilkStuff.com offers a uniquely romantic selection of long-lasting natural goat milk soap and lotion gift packs that pamper and help skin, for $20 or less.
Made by the Jonas family of 10 at their Indiana goat farm, the hand-made Goat Milk Stuff soaps and lotions are great gifts for loved ones and friends in a wide variety of scents.
With mom PJ and dad Jim overseeing soap making and marketing, each of the Jonas children (ages 5 to 16) pitches in to help milk the goats, mail soaps orders and help in many ways in the family's growing business.
The Doctors, CBS's hit national daytime show, focused on the Jonas family's wonderfully healthy soaps and lotions at Goat Milk Stuff. Dr. Travis Stork, host of the Emmy-award-winning show, interviewed the family, seen online at tinyurl.com/b67bcv5, about its beauty business products.
PJ Jonas, Founder, said, "After Christmas, February 14th is the biggest gift giving occasion as Valentine's Day is a time for people to show how much they cherish or appreciate each other. Goat Milk Stuff's reasonably-priced luxurious goat milk soaps and lotions are a way to show you care by giving someone a thoughtfully delightful way to relax, while pampering and moisturizing the skin."
Oprah Magazine also featured the Jonas family's goat milk soap products, now also posted at Oprah's Life Lift blog, tinyurl.com/7tyy8mw.
Goat Milk Stuff's Valentine's Day gift packs are reasonably-priced from $13 to $20, and each is presented in an organza bag with a variety of color and scent choices, including:

Beauty Packs with a scented soap, a body lotion stick and lip balm for $15.
Scent Packs with matching scented goat milk soap and soy candle for $13.
Sensitive Skin Packs with a bar of unscented purity soap, an unscented lotion stick, a trial-size of laundry soap and an unscented lip balm, for $20.
Foot Care Packs of peppermint-scented fizzy and lotion stick with a luffa to exfoliate, for $18.
Problem Skin Pack for a loved one who may have eczema, psoriasis, rosacea, acne, flaking or other skin problems, with four half-bar soaps in organic castile, purity, calendula and tea tree, for $15.
Goat Milk Stuff will ship orders placed by before Monday, February 11th via two-day Priority Mail to arrive for February 14th.
The Jonas business maintains an active social media presence with a growing following on Facebook at Facebook.com/GoatMilkStuff, YouTube at YouTube.com/GoatMilkStuff and on Twitter at Twitter.com/GoatMilkStuff.
Online at http://www.GoatMilkStuff.com, the Scottsburg, Indiana company makes and markets all-natural Goat Milk Stuff™ products including goat milk soaps, lip balms, lotions, bath bombs, laundry soap, soy candles and more. For media contact Brian Dobson at DobsonPR.com or BD (at) DobsonPR.com.