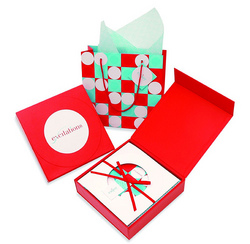 Gifting a loved one an Excitations experience - whether shared as a couple or done individually - is a unique way to create a connection and deliver lasting memories.
Sterling, VA (PRWEB) January 29, 2008
Skip the box of chocolates in favor of a chocolate-making experience; trade in the five iron for a PGA pro golf lesson; and dump the bath bubbles for some bubbly with a romantic champagne tasting. Excitations, the nation's premier online experience gift provider, redefines romance and excitement with unique Valentine's Day alternatives to the most commonly gifted items for men and women.
"Most people want to be great gift givers; to find that perfect gift which conveys it was thoughtfully chosen," said Kim AuBuchon, co-founder and chief operating officer at Excitations. "Gifting a loved one an Excitations experience - whether shared as a couple or done individually - is a unique way to create a connection and deliver lasting memories."
Valentine's 2008 gift-givers looking for a unique twist on the most common gifts for the special man or woman in their lives can visit Excitations.com and choose from a wide range of experiences starting at $50 that will be sure to inspire passion and excitement, including:
GIFT HER A CHOCOLATE-MAKING EXPERIENCE INSTEAD OF CHOCOLATE
A half-eaten box of chocolates hardly spells romance. Instead, indulge your loved one's passion for chocolate by letting her be a chocolatier for day.
GIFT HER A FLOWER ARRANGING PARTY INSTEAD OF FLOWERS
Flowers are a nice gesture, but take it one step further to show her how much you care. Let your loved one put her petal power to work with a flower arranging party for her and seven friends.
LET HER CREATE A SIGNATURE FRAGRANCE INSTEAD OF GIFTING PERFUME
The woman at the fragrance counter told you Britney Spears' perfume was as enchanting as her new album. Only later did you learn this was not a compliment. Forgo the perfume roulette and let her create a one-of-a-kind fragrance that captures her essence, style and personality.
GIFT HER A ROMANTIC CHAMPAGNE TASTING INSTEAD OF BATH BUBBLES
Bath bubbles are nice, but sipping bubbly with your loved one is even more romantic. With a champagne tasting experience for two, learn about champagnes while you sample distinctive bottles and food at an elegant champagne bar.
GIFT HER UNDERWATER PHOTOGRAPHY EXPERIENCE INSTEAD OF PICTURE FRAME
A frame is only as memorable as the picture it holds inside, so make a splash by gifting her an unforgettable photo excursion where she can capture underwater beauty up close.
GIFT HIM A STOCK CAR RIDE-ALONG INSTEAD OF NEW WATCH
A wristwatch might be practical for keeping time, but he'll be sure to remember clocking top speeds around an official NASCAR racing track with a stock car ride-along experience.
GIFT HIM BREWMASTER'S DINNER INSTEAD OF PERSONALIZED BEER MUG
Imagine the look of incredulity across his face upon learning his Valentine's gift includes the words "beer" and "food." Once he regains consciousness, the two of you will experience a customized five-course dinner paired with a selection of innovative brews.
GIFT HIM PRIVATE BALLPARK TOUR INSTEAD OF TEAM JERSEY
It might be easier to buy him his 23rd baseball jersey, but to hear him really cheer gift a private, behind-the-scenes ballpark tour for a truly memorable player's perspective.
GIFT HIM GOLF LESSONS WITH PGA PRO INSTEAD OF FIVE IRON
A brand new golf club might impress his foursome, but his game will really shine after a private lesson to raise his game a notch with a seasoned PGA pro.
GIFT HIM WINE & CHEESE PAIRING INSTEAD OF CHEESY BOXERS
Skip the cheesy heart-filled boxers in favor of a wine and cheese pairing experience where a wine educator will guide the two of you through fine artisan cheeses and award winning wines.
About Excitations:
Excitations is a premier gifting company offering a wide variety of unique life experiences as memory-making gifts. From photo safaris to hang gliding, from llama treks to glass blowing, Excitations is the exciting, reliable and easy answer to every gifting occasion - each 'Excitation' set to thrill, rejuvenate and enjoy. For kids or adults, for friends and family or corporate clients, something can be found to suit all budgets and personalities -- starting as low as $50. Excitations is the exclusive provider of Discovery Channel experiences and has been featured on NBC's "Today" and CBS's "The Early Show," more information can be found at Excitations.com.
###