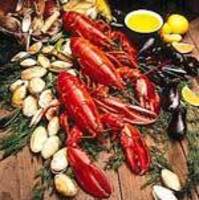 You should have seen the look on my man's face when he saw what I had ready for him for Valentine's Day … and he loved the live lobster and oysters, too! Don't forget the champagne.
Machias Bay, ME (PRWEB) February 1, 2011
This year, instead of heading out to a restaurant why not stay home to enjoy a steamy, sizzling new Valentine's Day dinner Classic with live Maine lobster, award winning seafood chowder and for the first time -- world famous Wellfleet Oysters-- all delivered direct from the rocky shores of Maine.
Lobsters-Online.Com is now delivering its classic live lobster and seafood combinations for the first time with a choice of fresh plump Wellfleet oysters. These new lobster and oyster Valentine Specials can be sent directly from the Lobsters-Online.Com facilities right to a customer's front door. The new lobster and oyster specials are available now for Valentine's Day weekend delivery.
Special Valentine Packages include choices of live lobster or jumbo lobster tails. Steam or bake the lobster – the bigger the better. Easy recipes are available for both. Cupid knows nothing is more romantic than preparing a wonderful live lobster dinner steamed to perfection and served with plenty of butter. With all the best seafood New England has to offer, Lobsters-Online.Com can provide all the ingredients required for a decadently scrumptious romantic dinner for two
Now With Oysters
The cupid inspired Valentine Special starts with a tray of world famous Wellfleet oysters plucked from the cold waters off Cape Cod. Pop the oysters open with the optional oyster knife and serve with the included cocktail sauce. The new Valentine Specials also include a choice of homemade style Lobster Trap Co. lobster bisque made with real chunks of lobster or award winning New England style clam chowder.
Free Range Beef and Lobster Tails
Popular last year and back again by demand are the Surf and Turf specials. The Valentine Surf and Turf Dinner package features Montana free range beef, jumbo lobster tails and creamy smooth clam chowder. The special comes with lobster bib kits to make eating fun and easy.
Cupid Says Surprise Your Lover
"You should have seen the look on my man's face when he saw what I had ready for him for Valentine's Day … and he loved the live lobster and oysters, too," laughed Aimee Nichols of West Palm Beach. "Don't forget the champagne!"
So while everyone else is fighting for reservations, trying to park, waiting for their table and getting rushed by the waiter, just say "No." Instead, enjoy a Valentine dinner at home with a love fest of the best lobster and oysters in the world. Cupid will be proud. And don't forget, a lobster dinner makes a memorable Valentine's Day gift for everyone in the family.
Quality and Freshness Are Number One
For nearly 40 years, Lobster Trap Company Business has been delighting customers from Boston and Cape Cod to as far away as Hawaii with its quality seafood. Lobsters-Online.Com has served the seafood buying online community since 1997. With facilities in Maine and Cape Cod, the Lobster Trap Company continues to offer its online customers the highest quality and lowest price found anywhere. Order today by 2:30 p.m. EST, and enjoy tomorrow.
###