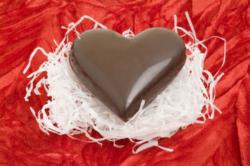 These price reductions apply to the thousands of assortments currently in stock and able to be shipped worldwide.
Baltimore, MD (PRWEB) February 12, 2013
Chocolate companies are in constant competition to produce candies that are in demand by consumers each year. The pricing between retailers can often fluctuate especially during holiday seasons. The http://www.housechocolate.com company is now offering Valentine's Day chocolate discounts online in time for the holiday. These price reductions apply to the thousands of assortments currently in stock and able to be shipped worldwide.
Some of the largest chocolate producing companies in the world produce more than one variety for the public. Specialty chocolates are produced typically in small quantities and offer samples of more than one type to chocolate lovers. Germany, Switzerland, France and the United States represent the largest countries currently producing multiple types of specialty chocolate.
The new discounts that are available online apply to the specialty and basic brands to provide affordable options for consumers purchasing on the Internet.
Baking chocolate can be difficult to find through some retailers due to the large amounts that are required for purchase. Most packages that are sold are more than one pound in weight. Depending on the type of chocolate requested, the pricing could be higher or lower according to current market prices. One of the ways the House Chocolate Co. is helping restaurants, bakers and home cooks is by offering a resource online for close to wholesale chocolate pricing. This culinary chocolate is offered in multiple types to provide more inventory online.
Apart from the varieties of consumable goods offered online, this company is also one of the largest providers of accessories in the cooking community. From books and recipe guides to needed kitchen accessories, this company adds to its inventory on a weekly basis. There are now hundreds of books and other products that are listed for sale online that could be combined with Valentine's Day gifts, birthdays or other gifts. The announced discounts are in addition to the everyday low prices marketed by this company online.
Customer orders can be placed 24/7 online and support is provided when requested to consumers to make buying online for the holiday season faster and easier compared with local supermarkets.
About House Chocolate Co.
The House Chocolate Co. is one of the leading independent specialty retailers selling chocolates and related assortments online. By stocking thousands of products, this company seeks to provide one of the largest resources for specialty chocolate and culinary chocolate found online. The frequent price drops and expedited shipping offered to customers are two examples of ways this company has innovated this year. The House Chocolate Co. offers online ordering to customers in any part of the world searching for gifts related to chocolate and other hard to find items on the Internet.