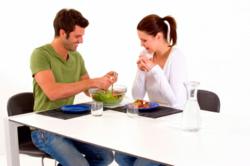 This drawing is the first of its kind for this restaurant.
Jacksonville, Florida (PRWEB) February 09, 2013
The excellent food is only one of the reasons that LeGrand's in Jacksonville is visited daily by locals and tourists. Frequent food and drink specials combined with special incentives for holidays provide additional ways to receive reduced menu prices. A new Valentines Day dinner drawing is being held on 02/14/2013 that is designed to announce four free dinners for two or four free lunches for four people. This drawing is the first of its kind for this restaurant.
One of the drawbacks to visiting upscale dining restaurants is usually the high price of entrees. It is common for a restaurant to raise the dinner prices compared with a lunch menu. One of the beliefs that the owners of LeGrand's Steak and Seafood have is to make all meals affordable regardless of the time of day. The lower than market average menu prices are designed to allow all guests of this restaurant to eat for affordable prices including during dinner.
In preparation for the upcoming Valentines Day dinner incentive, permanent changes have been made to the interior to offer a more comfortable atmosphere for all guests. The 1950s and 1960s music played through the restaurant sound system has received a warm welcome from all guests. This music is now played permanently at a reasonable volume for all guests to enjoy.
The addition of a mural that is a throwback to life on the boardwalk at the nearby beaches has received excellent reviews for its accuracy and visual upgrade to the restaurant.
Dinner reservations for the upcoming holiday, business meetings or fundraiser requests can be sent directly to this restaurant by using the following information:
LeGrand's Steak and Seafood
11290 Old St. Augustine Road
Jacksonville, FL 32257
(904) 268-3663
marketing(at)legrandssteak(dot)com
About LeGrand's Steak and Seafood
LeGrand's Steak and Seafood is not a chain restaurant and is individually owned in Jacksonville, Florida. This modern eatery has caught the attention of many in the local area searching for alternatives to average food and high-priced drinks. The constant menu upgrades at this restaurant is one way that is used to keep all guests happy with each visit. A trained and friendly staff is employed by LeGrand's Steak and Seafood to provide 100 percent customer satisfaction. The expert culinary staff ensures the menu is prepared to order and to guest specifications for brunch, lunch and dinner.