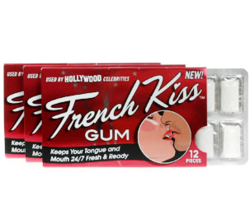 Dr. Katz's advice for giving the perfect fresh breath kiss on Valentine's Day
(PRWEB) February 12, 2013
In acknowledging the popular tradition of celebrating Valentine's Day every February 14, Dr. Katz and his line of TheraBreath Oral Hygiene products is offering professional advice about how to give a loved one that "perfect fresh breath kiss" without feeling embarrassed about bad breath. TheraBreath is also running a special promotion from 2/11/13 - 2/18/13, that gives customers a free pack of French Kiss Gum on any order over $1.00 and free shipping with any order over $25.00.
The Center for Disease Control's Oral Health Division reports that oral health is a primary indication of an individual's general well-being and health. Statistics gathered by the CDC find that nearly 90 percent of adults between the ages of 20 and 39 suffer from some type of tooth decay, a significant factor in the development of a chronic halitosis condition. Further, this percentage rises to 95 percent among adults between the ages of 40 and 59 who are currently experiencing various stages of enamel erosion.
Bad breath is not only embarrassing but significant proof that something is wrong with an individual's oral health. Common reasons for suffering bad breath include insufficient saliva flow, inadequate oral hygiene practices, teeth and gum disease, smoking, and using toothpastes and mouthwashes that contain alcohol or sodium lauryl sulfate (SLS). Anaerobic bacterial growth exponentially increases and results in excessive amounts of sulfuric gases excreted in the mouth by this bacteria when the mouth remains consistently dry due to exposure to desiccants like SLS, alcohol, cigarette smoke, and sugary foods.
Dr. Katz's suggestions for giving the perfect fresh breath kiss on Valentine's Day without unnecessarily stressing over bad breath involves learning good oral hygiene practices, avoiding alcohol and cigarettes and using oral products that do not contain abrasives and desiccants. In addition, Dr. Katz recommends routine tongue cleaning to help eliminate halitosis. A 2004 Hong Kong Medical Journal article called "The aetiology and treatment of oral halitosis: an update" and written by P.C. Lee et al, reports that removing the furry, white coating on the tongue with a professional tongue cleaning device may decrease oral concentrations of sulfuric gas by as much as 52 percent.
Brushing and flossing teeth twice daily in addition to rinsing with mouthwashes that enhance salivation rather than inhibit saliva flow effectively leads to the elimination of anaerobic bacteria and the volatile sulfur compounds they produce. Commonly found in over the counter toothpastes and mouthwashes, alcohol and sodium lauryl sulfate (a foaming agent and abrasive) contribute to keeping the mouth dry and airless, two conditions conducive to the proliferation of anaerobic bacteria. Alternately, none of TheraBreath's products contain alcohol or SLS. Instead, Dr. Katz has provided consumers with oral hygiene products rich in naturally powerful compounds that enhance saliva flow and infuse the mouth with aerating oxygen molecules to impede anaerobic bacterial growth.
For people who suffer from tonsil stones, giving or receiving that perfect fresh breath kiss on Valentine's Day may be more problematic. Tonsil stones tend to recur, are sometimes difficult to dislodge, and cause even worse breath than ordinary halitosis produced by bacteria. Tonsil stones appear as tiny, yellowish-white "rocks" that can be detected visually and develop from accumulations of mouth debris, calcium and mucus within the fissures of the tonsils. After clinically investigating the primary reason for tonsil stone development, Dr. Katz has created a professional tonsil stone removal kit that includes nasal-sinus drops, Aktiv-Oxigen tablets, an extinguisher spray and special, saliva-stimulating mints to get rid of the mouth detriment and dry conditions contributing to tonsil stone formation.
By sharing these free oral health tips, TheraBreath and Dr. Katz hopes everyone celebrates Valentine's Day 2013 by giving loved ones perfect fresh breath kisses enhanced with whiter teeth and a clean, healthy mouth.