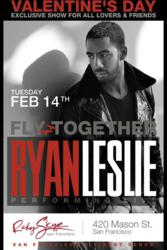 San Frnacisco, CA (PRWEB) February 04, 2012
San Francisco dance club Ruby Skye, one of the premier party venues in the Bay Area, will feature R&B singer and producer Ryan Leslie live this Valentine's Day as an exclusive show for all lovers and friends. At San Francisco's number one nightclub, concert and special event venue, guests will enjoy his soulful tunes on this special night while dancing the night away with their special someone.
Ryan Leslie is best known for his production work with Bad Boy recording artist Cassie and the single "Me and U." During his time in college, Ryan Leslie sang four-part harmony for the Harvard jazz group the Krokodiloes and discovered his passion for music.
Leslie's music production history includes several contemporary genres: hip hop, R&B, pop, gospel, and many more. His credits for production include Beyoncé, Britney Spears, Cassie, Diddy, the Myth, Donell Jones, New Edition and Cheri Dennis. Ryan has also worked with singer/songwriter Usher.
In pioneering new promotion mediums, Ryan Leslie has championed the newest internet sensation, online video sharing. He has pioneered the medium as he posts voyeuristic clips of projects he undertakes as an artist trying to create a brand new vibe with his music.
For more information about this San Francisco party venue, and Ryan Leslie's live performance this Valentine's Day, and all other of events for this year at Ruby Skye, visit their website at http://www.RubySkye.com.
About Ruby Skye Nightclub San Francisco
Ruby Skye, the premier San Francisco nightclub, is one of the most-visited Bay Area clubs and host to both local and international DJ's who enjoy performing in San Francisco. The 15,000-square-foot historic building housing the club (est. 1890) offers four distinctively different, luxurious areas for entertaining that can be combined to accommodate up to 900 guests. It also features "The Jungle Room," an elegant and private lounge where guests can enjoy fine cognac in Old World elegance.
###