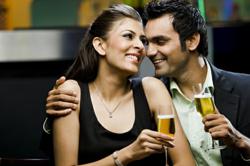 US Research confirms that experiences last longer in a person's memory compared to any material gift.
New Delhi, India (PRWEB) February 01, 2013
When Roman emperor Claudius II Gothicus (268-270 AD) decreed that his soldiers should remain celibate, it was Saint Valentine who got the soldiers married in secret. The emperor ordered his execution. It is said that just before he was to be executed he wrote a letter to his beloved signed 'From your Valentine'; an expression that still remains in use today. Thus, Saint Valentine became one of the first in history to be martyred in the name of love. So this Valentine's don't get martyred for not sending the perfect gift of love. Although the moment Valentine's Day gifts is mentioned people instantly think of roses, chocolates and sweet Valentine cards. However there is more to the picture than just what meets the eye.
Delight Gifts has launched the first experiential gifting portal in India which offers over hundreds of experiences, vouchers and gift items to suit any budget. With brands from Café Coffee Day to Oberoi Hotels, they have covered a range of gifting ideas from a cup of coffee with your sweetheart to a luscious spa holiday in an exotic location. Think beyond fine dining and spa with experiences such as a two day tour across Delhi on a Harley Davidson or a private Salsa class for two. They also offer some traditional gifts such as gourmet muffins, Swiss chocolates, chocolate brownies and flower bouquets.
However, what they say is, when the flowers are complimented with a sushi lunch or pottery classes, the experience is taken to a whole new level. Director and Co-founder of Delight Gifts, Pooja Lal, says "Although experiential gifting is a new concept in India, the interest and response has been fantastic. US Research confirms that experiences last longer in a person's memory compared to any material gift. For example, when you gift someone a wine bottle, they will appreciate it. However, give them a wine tasting experience and they are sure to remember that much longer. This is the basis of our concept and we hope customers like what we have to offer. We are constantly adding new experiences with new brands pan India to cater to all segments."
Apart from the elegant packaging and free shipping across India, Delight Gifts offers a Gift Concierge service for making all the arrangements and ensuring one has a memorable experience. With a few clicks online Valentine's gifts can be sent hassle free. Cupid's going to love this one…
For further information please visit: http://www.delightgifts.in/occasion/gifts-for-special-occasion/valentines-day-gifts/
About Delight Gifts:
Delight Gifts is owned and operated under the Company SPSL Infotech Pvt. Ltd. in Gurgaon, Haryana, India. The web portal http://www.delightgifts.in is an ecommerce portal with gift experiences and products where consumer globally can purchase gifts to be delivered in India. Having partnered with over 65 established brands Delight Gifts offers over 500 gift experiences and products to consumers and corporate clients in India and across the world for delivery within India