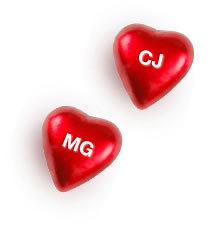 Philadelphia, PA (PRWEB) January 29, 2008
This Valentine's Day, Singularity Design and the American Red Cross are introducing a new way to show your loved ones you not only care about them - you also care about those in need. Visitors to the new Red Cross Hearts website can post a public message to their special someone while simultaneously supporting the Red Cross as it fulfills its vital mission.
Visitors simply point their browsers to http://www.RCHearts.org , make a donation of $10 or more to help the Red Cross help those in need, create their own personalized "heart," and post it on the site for their loved ones to see. Visitors can also customize their heart with borders, backgrounds, and other fun graphics. Donors can choose to make their heart public and visible to the world, or private, or choose to remain anonymous, hiding their identity from the recipient. Recipients receive an email announcing the message they have received and guiding them to the website to view their heart.
Each heart created on the site helps the American Red Cross Southeastern Pennsylvania Chapter support victims of disaster in with food, clothing, shelter and other assistance. While the impact of many Valentine's Day gifts is short-lived, the impact of this gift will continue to be felt by the families and individuals that the American Red Cross helps every day.
As an added bonus, every person who sends a heart by midnight on February 28th will be eligible to win special prizes in the "29 Days of Sweetness and Caring Giveaway". Red Cross Hearts will have a daily drawing every day during the month of February. From February 1st through February 28th, the daily winner will receive a 28-piece gift box of John and Kira's gourmet chocolates. On February 29th, there will be a grand prize drawing for a complimentary overnight weekend stay for two in deluxe accommodations at the Loews Philadelphia Hotel, courtesy of Loews, and a deluxe John and Kira's gift tower.
Prizes for the "29 Days of Sweetness and Caring Giveaway" have been generously sponsored by Springboard Media, Philadelphia's Premier Apple Specialist. With a showroom at 2212 Walnut Street, and a home on the Web at SpringboardMedia.com, Springboard Media is Philadelphia's source for everything Apple, from iPods to MacBooks.
The Red Cross Hearts website was designed and developed for the American Red Cross by Singularity Design. Singularity is an award-winning interactive marketing agency based in Center City Philadelphia and a longtime supporter of the American Red Cross. To learn more about Singularity Design, visit http://www.SingularityDesign.com .
The Red Cross Hearts website is available at http://www.RCHearts.org .
###