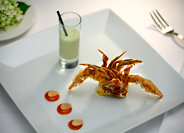 Bring your loved one to Madrona Manor for a sensual Valentine's meal you will look back on with a smile for years to come.
Healdsburg, CA (PRWEB) February 12, 2012
Couples looking for the ultimate romantic Valentine's Day dinner are invited to spend the evening at Madrona Manor, an elegant Victorian inn nestled in the hills of California wine country that was recently named one of the top 100 most romantic restaurants in the U.S. in the 2012 OpenTable Diners' Choice Awards. The 5-course prix fixe menu, prepared by Michelin Star-winning chef Jesse Mallgren, is designed to tickle the senses and ignite the flames of passion.
"Bring your loved one to Madrona Manor for a sensual Valentine's meal you will look back on with a smile for years to come," invites Kevin West, manager of Madrona Manor.
Couples can complete the evening with a stay in one of Madrona Manor's beautiful rooms or suites, all offered at 50% off for the evening with a dinner reservation.
OpenTable's list of top 100 romantic restaurants is culled from more than 5 million reviews of 12,000 restaurants in all 50 states and the District of Columbia between January 2011 and December 2011.
"We love this list because it reminds us of the special connection between food and love," says Caroline Potter, Chief Dining Officer of OpenTable. "This year's honorees really understand the intimacy and joy that comes from sharing a meal with a loved one, and they continually succeed in making so many couples feel special."
Sixteen of the restaurants on the list are in California, but Madrona Manor was the only restaurant in wine country to make the cut.
"We would like to thank OpenTable reviewers for rating us one of the most romantic restaurants in the country," says West. "Our goal is to provide a welcoming, elegant ambiance and attend to every detail, so guests can relax and enjoy sumptuous cuisine with artfully paired wine in the company of their loved ones."
Nestled in an elegant Victorian estate that is known as one of the finest luxury hotels in Napa or Sonoma counties, the restaurant of Madrona Manor is run by Chef Jesse Mallgren, who has total creative control over the kitchen.
Since 1999, Chef Mallgren has been creating inspired cuisine at the Healdsburg fine dining restaurant. He specializes in superb new California cuisine based on a classic French foundation of sauces and stock punctuated by global influences. Chef Mallgren honed his culinary skills alongside some of the most esteemed names in the culinary world, including Jeremiah Tower and Gary Danko. He is known in culinary circles for his unconventional ingredient pairings.
Under Chef Mallgren, Madrona Manor has become one of the most celebrated places in Sonoma or Napa for fine dining. The restaurant was recently awarded its 5th Michelin Star in a row. Additional honors include a 27 Zagat rating and "Zagat Top Spot" award, inclusion on OpenTable's list of the top 100 "Best Overall" restaurants in the U.S., a Top 100 Bay Area Restaurants honor from the San Francisco Chronicle in 2009, and glowing reviews from Wine Spectator and the Press Democrat, among others.
To make a reservation for Valentine's Day dinner, call Madrona Manor at (866) 319-8212 or visit http://www.madronamanor.com.
About Madrona Manor
Nestled in the hills above the Dry Creek Valley of Sonoma County, Madrona Manor is an exceptionally lovely Victorian estate surrounded by eight acres of wooded and landscaped grounds. The Mansion, built in 1881, has been a destination for discerning guests seeking a stay in the gracious wine country of northern California since 1981. Whether visitors come to get away from it all, or to reconnect with friends and loved ones, Madrona Manor is one of the finest locations for an out-of-town weekend, party, executive retreat, or wedding reception in Napa or Sonoma Counties.
Visitors are invited to enjoy a romantic meal in the acclaimed fine dining restaurant, engage in quiet conversation with drinks on the veranda, or relax by a cozy fire in the winter or the pool in the summer. At the end of the day, a peaceful night's stay awaits guests staying in any of the elegant rooms.
# # #