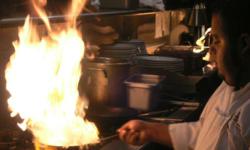 We are a very upscale Mexican restaurant in a romantic location—the perfect place for an intimate dinner with your lover or small group of friends.
Oakland, CA (Vocus/PRWEB) February 12, 2011
White tablecloths, twinkling lights flickering off the still waters of San Francisco Bay, and soft, romantic Latin music, are on the menu at Cocina Poblana: The Art of Mexican Cooking this Valentine's Day weekend. Chef-owner Lito Saldaña will be serving lovers in his romantic East Bay restaurant from 4 to 10 pm this Sunday and Monday from a very special three-course, $39 prix fixe menu. The restaurant is located at 499 Embarcadero West in Oakland's historic Jack London Square. Its sister restaurant is located at 1320 65th Street in Emeryville.
"Valentine's Day in Mexico is called El Día del Amor y la Amistad or 'the day of love and friendship' where people show appreciation and affection toward their romantic partners and also their friends," said Chef Lito Saldaña, founder of Cocina Poblana. "We are a very upscale Mexican restaurant in a romantic location—the perfect place for an intimate dinner with your lover or small group of friends."
The three-course prix fixe menu for $39 per person includes choice of appetizer, entrée, and dessert.
First Course

Ahi Tuna Ceviche -fresh diced ahí tuna, made with avocado, cilantro, chile de arbol, served on a slice of tomato and garnished with a pomegranate reduction
Ensalada de Camaron - marinated tiger prawns with avocado, cucumber, tomatoes and onions served in a romaine lettuce leaf
Tamalitos Mama Elena - mini tamales with slices of grilled chicken breast, smothered with mole negro and garnished with queso fresco
Cocktel de Ostiones - oyster cocktail, served with cocktail sauce, avocado, onions and cilantro
Main Course - each entrée is served with Poblano rice, tropical mango salsa, a pomegranate reduction, and choice of salsa chipotle, salsa de Habanero or salsa Poblana

Salmon a la plancha - pan-fried salmon
Mahi mahi a la parrilla - grilled mahi mahi
Camarones salteados - sautéed shrimp
Bistek a la parrilla - grilled rib eye steak
Pechuga de pollo a la parilla - grilled chicken breast
Chile Relleno - vegetarian chile relleno
Dessert - each dessert is accompanied with café de olla

Churros Mexicanos - served with vanilla ice cream, smothered with caramel & chocolate
Flan de café – flan with coconut garnish and Mexican chocolate
Pastelito tres leches - cake garnished with fresh strawberries
Wine pairing are available for $25 per bottle, and include a choice of 2008 Stonehead Cabernet from Mauley Valley, Chile, 2009 P.K.N.T. Chardonnay from Santiago Chile, or Coastal Vines sparkling wine from Mendoza, Argentina.
Tequila flights are available for $18. Choose from the Poblana: Chinaco blanco, Partida reposado, and Paqui Añejo08' Filus Malbec or the Presidencial: Tesoro blanco, Claze Azul po, and Patron Añejo.
Flights are samples of tequila served in quarter shots. Drinking tequila in a flight is a great way to sample multiple products at one sitting. Cocina Poblano boasts over 200 types of tequilas. Guests are bound to find something they love among the samples.
About Cocina Poblano : The Art of Mexican Cooking
The term "The Art of Mexican Cooking" is a humble, yet colossal affirmation that conveys not only the cuisine but the style of service which Cocina Poblana brings to the area. The East Bay restaurant artfully prepares refined Mexican cuisine focused on traditional colonial flavors fused with modern techniques and trends.
Poblana is the region of Puebla, Mexico—the heart and soul of fine Mexican cuisine. Culinary traditions have been passed down for centuries from generation to generation so that the essence of the people's ancestors is kept alive. Poblana's cuisine is a perfect blend of the refined delicate flavors of Puebla and the robust and rustic style of Jalisco.
Poblana also refers to "the pueblo," or township. Many of the restaurant's dishes display the warm qualities of the home-cooked meals of rural Mexico. Cocina Poblana is a culmination of these ideas and hard work that for the past 15 years is now flourishing into what the restaurant is today.
Lito Saldaña, the chef and founder of Cocina Poblana, is renowned a casual chef walking the unbeaten path. His cuisine focuses on bringing the distinct flavors from traditional Mexican pueblos and showcasing them with a modern twist. He uses his family's recipes and keeps food simple but very enjoyable. Chef Lito's parents, Pedro and Luisa, have been his culinary instructors and the inspiration for his career. Mama Luisa and Don Pedro are, therefore, two predominant names on the restaurant's menu.
Cocina Poblana offers fine San Francisco Bay Area catering service for birthday parties, weddings, anniversaries, quinceañeras, and any other holiday, corporate, or significant events. Delivery and set-up are provided at no additional charge. Cocica Poblana can also provide professional staff who can serve for two hours. They provide all the necessary serving utensils.
# # #