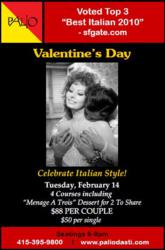 Palio has lots of regulars and we have no intention of taking advantage of them just because it's Valentine's Day.
San Francisco, CA (PRWEB) February 04, 2012
San Franciscans have always held a special place in their hearts for great Italian food, and love is in the air—and the food—this Valentine's Day at Downtown San Francisco's Palio d'Asti. The restaurant , which has been voted one of the top three best San Francisco Italian restaurants in the Bay Area by SFGate readers, is hosting a very special—and very Italian—four-course, prix fixe dinner for lovers on Tuesday, February 14 with reservations taken for seating between 5 and 9 pm.
Palio's inviting, Michelin-approved ambiance—complete with elegant white tablecloth tables and cozy booths, artfully crafted cocktails, and a Wine Spectator award-winning wine list—is always popular with Bay Area residents and visitors, especially for celebrating special occasions like an intimate Valentine's Day dinner. A founding member of Slow Foods San Francisco, Palio's menu focuses on authentic, regional Italian cuisine utilizing local, organic and sustainable artisan ingredients.
This special Valentine's four-course dinner is $88 per couple or $50 per individual (slightly higher to adapt for individual dessert offering). The menu includes:
APRIBOCCHE (MOUTH-OPENERS):
The Italian version of an amuse bouche to share. Includes a Saffron Risotto Ball, Crab Croquette and Veal Meatball.
FIRST COURSE CHOICE OF:

Insalata Romana: Hearts of Romaine with Dates, Walnuts, Goat Cheese and Balsamic Vinaigrette
Fedelini con Granchio: Linguini with Dungeness Crab, San Marzano Tomato Sauce, Calabrese Chilies and Oregano
Oyster and Baccala Chowder: with Scallions and Fried Shallots
Or the very Valentine's dinner appropriate Neapolitan "Wedding Soup," which marries five preparations of Pork Braised with Greens, Garlic, Chile and Parmigiano.
ENTRÉE SELECTION INCLUDES:

Dentice alla Romana: Roasted Local Red Snapper with a Three Herb Salsa Verde, Braised Artichokes and Sunchokes
Petto di Pollo alla Marsala: Pan-Roasted, Marsala-Glazed Organic Chicken Breast, Sundried Tomato Tapenade, Sicilian Spinach with Pine Nuts and Raisins
Corona d'Agnello: Fennel Crusted Rack of Suckling Lamb with Wild Mushroom Ragout and Sage-Scented Buckwheat Polenta
Vegetarian Duetto di Ravioli dal Orto: features Pumpkin Ravioli with Brussels Sprouts, Brown Sage Butter, Piave Cheese and Porcini Mushroom Ravioli with Truffled Creamed Spinach
DESSERT:

Sweet Winter "Ménage a Trois" Platter for Two to Savor presents Devil's Food Chocolate Cake with Hazelnut Dulce di Leche Sauce and Candied Orange Peel
Brown Sugar and Buttermilk Panna Cotta with Roasted Grapes and Pinot Noir Reduction
Meyer Lemon Meringue Tartlet with Pistachios and Mint Syrup
To make reservations, please call (415) 658-9295 or reserve online at http://www.paliodasti.com.
PLEASE NOTE: An earlier Valentine's Day and Weekend Dinner Menu announcement was published in error on February 4, 2012. It contained details from a previous year's Valentine's Day celebration at Palio d'Asti. Palio apologizes for any confusion this caused.
ABOUT PALIO D'ASTI
Palio D'Asti is among the best Italian restaurants in San Francisco. Located at 640 Sacramento Street between Kearny and Montgomery in the heart of San Francisco's Financial District, convenient to Moscone Center and major downtown hotels, it is open for lunch Monday through Friday from 11:30 a.m. to 2:30 p.m. and for dinner Monday through Saturday from 5:30 p.m. to 9:00 p.m. with "$1 Pizza" bar menu available at the best San Francisco happy hour Monday through Friday from 4:00 p.m. to 7:00 p.m. Palio is also a favorite for group dining and receptions with 3 private rooms popular for both private and corporate entertaining that can accommodate 20-300.
Two hours' free validated parking is available at the nearby Portsmouth Square Garage at lunch and dinner.
###