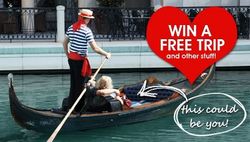 "We wanted to have a bit of Valentine's fun and bring out the inner-creative in our customers." Rowan Gormley, Founder, Naked Wines
(PRWeb UK) February 10, 2011
Online wine retailer Naked Wines, which supports independent winemakers from around the world, is challenging their customers to 'get slushy' in the name of St Valentine and a free trip to Venice.
They've teamed up with Italian winemaker Alessandro Botter, their most popular Prosecco producer, to run the competition.
To be in with a chance of winning, customers have to 'show their soft side' and declare their undying love to their 'sweetheart' in a public discussion group on Naked Wines.
Alessandro, who will be giving away several runners-up prizes too, offers some words of encouragement:
"Hello my friends! I look forward to reading all your messages and picking the winners. Pour your heart into your entry and declare your deep love to your sweetheart. Good luck to everybody."
Naked Wines Founder Rowan Gormley added:
"We wanted to have a bit of Valentine's fun and bring out the inner-creative in our customers. We have an active online community, who love chatting about wine, food and life in general, so we thought we'd challenge them to talk about their sweetheart too! The entries are coming in thick and fast (some of them clearly wine fuelled...) and Alessandro is going to find it tough to pick the winners."
The competition, which closes at midnight on 14th February, is open to all UK residents aged 18 or over (whether a current Naked Wines' customer or not). The prizes inlcude:
FIRST prize: An all-expenses paid trip to Venice, courtesy of Alessandro, worth over £500
SECOND prize: 12 bottles of Alessandro's Borgo di Sassi Prosecco, worth over £119
THIRD prize: 6 Bottles of Alessandro's Borgo di Sassi Prosecco, worth over £59
PLUS, twenty entrants will each receive a bottle of something from Alessandro.
A word of advice from Naked Wines, who will be announcing the winners on 15th February:
"It's one entry per person. So if you have a bit on the side, you'll have to pick between them and your partner!"
To find out more about the competition and how to woo your valentine, visit http://www.nakedwines.com/getslushy
###