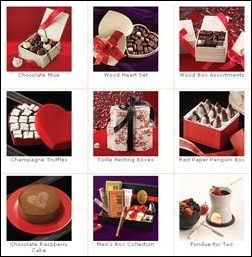 Of course, I may be prejudiced, but our customers seem to agree!
Walpole, NH (PRWEB) January 30, 2007
At New Hampshire's Burdick Chocolates, they are making Valentine's Day shopping easy and delicious by combining unique flavors with romantic packaging. Whether your true love will appreciate a traditional red velvet heart filled with champagne truffles or cute chocolate penguins in keepsake boxes, Burdick has the gift to fit the bill.
"Nothing says 'I love you' like gourmet, handmade chocolates," said chocolatier Paula Burdick. "Of course, I may be prejudiced, but our customers seem to agree!"
This year, Burdick's has added two new twists to chocolate-lovers' classics. First, they've enhanced the traditional red velvet, heart-shaped box with the ideal tastes of celebration - champagne and dark chocolate. This generous box holds two flavors of champagne truffles and is finished with a black chiffon ribbon.
Another expected Valentine's favorite is the caramel tray assortment, featuring chocolate-covered caramels in a red pull-drawer box. Paula Burdick said, "Caramels are capturing everyone's attention these days, although we've been making ours for years. A special selection including our three regulars - accented with mocha, apricot and vanilla - plus two new flavors sprinkled with salt - sophisticated and fresh!" The re-usable box is highlighted by a white tassel and black chiffon ribbon.
And whoever said men don't like to receive special notice on Valentine's Day? Burdick Chocolates has created the Men's Box Collection, featuring an assortment of delicious treats that will surely hit the spot. Included is famous Burdick hot chocolate for two, two chocolate bars, two signature chocolate mice, three chocolate cigars, assorted nuts and truffles, and a single penguin.
These Valentine gifts and many more may be ordered by visiting the website at http://www.burdickchocolate.com or calling 800-229-2419.
###