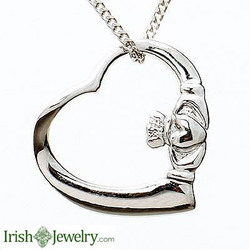 New York, NY (PRWEB) February 1, 2009
For Valentine's Day, IrishJewelry.com has released an exclusive new jewelry design called the Claddagh Floating Heart Pendant in Sterling Silver. This beautiful piece features the traditional Irish claddagh cast in a Sterling Silver heart-shaped pendant, which floats freely on the included silver chain. Affordably priced at $49.95, this new piece is sure to become a popular gift this Valentine's Day.
The Irish claddagh, which features two hands cradling a crowned heart, is a popular design that throughout hundreds of years has stood for fidelity, love, and friendship. On top of its beautiful story of love, the claddagh design also carries with it some equally romantic traditions. It is worn by both women and men as a symbol that their heart belongs to someone, and its popularity extends far beyond its Irish heritage.
Valentine's Day is the perfect time to give the gift of jewelry to that person you love most, and IrishJewelry.com offers a wide variety of silver and gold pieces that are perfect for this romantic holiday. IrishJewelry.com has released this new claddagh pendant in Sterling Silver as an affordable but extremely elegant choice for Valentine's Day shoppers, and their online store features more than 200 other exclusive designs in silver and gold as well.
The ordering process at IrishJewelry.com is extremely simple, and orders placed between now and Valentine's Day are being given priority treatment to ensure that they are delivered on time. Several shipping options are available, including Next Day Air, so all shoppers can be assured that their orders will arrive in time for the holiday. Each piece of jewelry comes elegantly gift boxed and ready to give to that one true love for Valentine's Day.
IrishJewelry.com was launched in the Fall of last year, backed by an Irish-American company with a long history of importing Irish goods to the United States. IrishJewelry.com is destined to become the "Amazon" of this niche jewelry market, with e-shopping features like customer Wishlists, a one-page checkout process, discount prices, customer reviews, and high quality products. With prices ranging from $40 to $250, these make wonderful gifts for any budget.
###