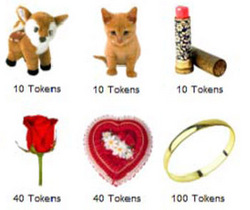 Miami Beach, FL (PRWEB) February 11, 2009
In time for Valentine's Day, Date.com (http://www.date.com), Matchmaker.com (http://www.matchmaker.com), and Amor.com (http://www.amor.com), leading Online Dating websites with more than 10 million members worldwide, has launched Virtual Gifts to its community. Beginning this week, singles can show interest, affection and even friendship by purchasing fun and flirty online gifts. And, as the recession continues to impact spending, sending a $1 virtual gift is an extremely inexpensive way to make an impression with a potential date.
"Online Dating is flourishing in this recession, and while it's free to join our sites, create a profile and search through profiles, communication via e-mail, Instant Messenger and in the chat room requires a paid subscription. For those reticent about committing to a subscription, the Virtual Gifts option enables them to take the first step in showing and receiving interest for a fraction of the cost. Once they get the response they're hoping for, they can communicate with the potential date by become a paying member," said Avalanche CEO Meir Strahlberg. "This Valentine's Day, our members have the option of showing affection and interest by spending $1 on a virtual bouquet of roses which will digitally last forever. Compared to $75, the average cost of a dozen roses, which only lasts one week, it certainly seems like a viable option for millions of online daters who may have brought a bouquet of roses to a first date in healthier economic times."
Introducing Virtual Gifts is a recent example of Avalanche's commitment to providing its members with new and exciting features that help enhance their online dating experience. From a business perspective, this feature will serve as another revenue stream for the Company; according to leading analysts, Virtual Gifts is an estimated $1.5 billion industry.
How it Works
Members purchase tokens that can be converted immediately, or at a later date, into Virtual Gifts. Online gifts, which range in price and start at $1, run the gamut from romantic to flirty. Everything from roses, hearts, Cupids and boxes of chocolates to martini glasses, food, stuffed animals, and even a shiny red sports car are available for purchase. Specialty items and limited edition items will be introduced in future updates of the feature.
Branded Virtual Gifts will also be available to advertisers that are looking for innovative ways to market products to online daters. Singles do not have to be paying subscribers of the sites to purchase, send or to receive Virtual Gifts. Virtual Gifts can be purchased using all major credit cards as well as via PayPal.
About Avalanche, LLC
Avalanche operates several leading online dating websites, including Date.com, Matchmaker.com and Amor.com. Date.com launched on Valentine's Day 1997 and has become one of the world's most popular dating websites. First started as a Bulletin Board System in 1986, Matchmaker.com is the oldest online dating site. It was acquired by Avalanche in 2006 and targets those singles seeking serious relationships. Amor.com, launched in 2007, is a rapidly growing destination for Hispanic singles. Avalanche hosts more than 10 million members worldwide, with the sites adding over 100,000 members each month. Additional information is available at http://www.date.com.
# # #