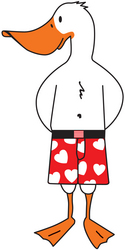 Face it: you love me
Cranford, NJ (PRWEB) February 2, 2009
Giving flowers and candy for Valentine's Day can get routine, not to mention expensive. For those who want to try something different yet stick to a budget, Webundies.com offers many fun gift ideas - most of them for less than $30. The company is also extending its free shipping on orders $75 and over through the month of February. WebUndies.com offers free shipping year-round to military addresses.
WebUndies.com stocks over 1,500 styles for men, women and children including popular product lines such as Hello Kitty, Betty Boop, High School Musical, Playboy, Popeye, Tinkerbell and other Disney characters. All are sold 25-40% below the manufacturers' suggested retail prices.
$30 and under Valentine gift ideas
"Webundies.com products are perfect for Valentine's Day gift giving," notes Deborah Palacio, WebUndies.com managing partner. "We have many romantic, sexy and fun items in stock that appeal to all interests and are at reasonable price points."
Palacio offers the ideas listed below for those looking to surprise a loved one this February 14. All products are available at WebUndies.com unless otherwise noted. The WebUndies.com website has other Valentine's Day gift selections.
Give him your heart. Or at least give him two of our bestselling sweetheart boxers. The first features classic red hearts tossed on a white background ($12.99) and the second has red hearts with the words "I'm too sexy" on a black background ($12.99). Maybe splurge a little and add our regal red satin boxers ($16.99) to show you really love him.
For the beer lover. Our Corona Extra "Face it: you love me" boxers ($11.99) plus our Miller Lite "jeans pants" lounge pants ($17.99) are great additions to his loungewear collection.
Cupid's cutie just for her. Our Hello Kitty 2-piece set ($24.99) is sure to please that special woman. It includes a pink all-cotton tank top and soft fleece leopard print shorts.
Totally perfect. Mix and match Happy Bunny "You are totally perfect" panties ($6.50) with other panties in fun designs including Mickey Mouse, Just Jimmy, or Peanuts characters ($5.99 to $8.50). Add a dollar-store gift bag, heart confetti and ribbon and you have a gift that "wows"!
She's a superhero. You can't go wrong with our Wonder Woman cami and panty set ($29.99). It's a perennial bestseller for WebUndies.com, especially for Valentine's Day.
Valentine's Day shipping schedule
Palacio notes that WebUndies.com can ship items out as late as noon February 12 for delivery by February 13. For the detailed shipping schedule, check the WebUndies.com home page.
About WebUndies.com:
WebUndies.com went online in 1999 as a specialty retailer focusing on licensed novelty boxer shorts with about 15 designs. Since then the company's product offerings have expanded and now exceed 1,500 styles. WebUndies.com also stocks lounge pants, robes and t-shirts for men; boxer shorts, lounge pants and pajamas for children; and panties, thongs and loungewear for women.
WebUndies.com has been featured on CNN Headline News, MSNBC.com, and The Howard Stern Show; as well as Playboy magazine, Cosmopolitan Magazine, Maxim Magazine, US Weekly, Star, Rolling Stone, Men's Journal, and many other regional and international publications. The company also gets frequent mentions in blogs for unique and affordable products.
WebUndies.com offers affordable custom printing services for customers who are running fundraisers or events. The company can imprint boxers, lounge pants, blankets, hospital scrubs and more! Webundies.com also offers bulk pricing for orders of 36 units or more. This option is very popular for Boxer Bingo events held as part of high school "Project Graduation".
###